2019 - 2020 Trip
Day 142 Governors Landing Campground, Amistad National Rec Area, Del Rio, TX
2011 Trip across the US
2012 Trip across the US
2014 Trip across the US
2015 Trip to Alaska
2015-16 Southwest Trip
2016 New England Trip
2016 - 17 Southwest Trip
2017 - 18 Trip to Pick Up a New Escape 21 Trailer & More
2018 - 19 Trip to Winnipeg & the Albuquerque Balloon Fiesta
2019 - 20 Trip to the Southwest
Tuesday, March 10, 2020 - Governors Landing, Amistad National Rec Area, Del Rio, TX, 110.1 miles, 5,232.6 Miles for the Trip
While it didn't actually rain, there was heavy mist that needed the wipers the entire trip. In some areas I had to slow down because of fog. I arrived at Governors Landing in the Amistad National Recreation Area around 11:30AM. I'm in site 7, for $5.00 with the Senior Pass for a dry site. With a bit of careful placement, I only needed to lift one side about 1/2" and a couple of inches on the tongue jack. Most of the sites are fairly heavily sloped, including a couple of nice pull throughs that were too steep for me. A nice view of the reservoir.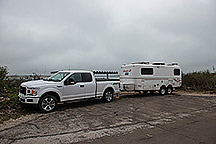 Site 7
Still lots of heavy clouds, although the solar panels are producing enough to break even while operating the laptop. There is an NPR station in Del Rio that the truck radio has no problem picking up, but the trailer radio can't get it. I really need to improve the trailer's radio or reception!
I spent the afternoon reading - still on White's The Heat Islands. In my opinion, it is a better book than some of his later novels. The second in the Doc Ford series. Maybe the fact that the last one I read was the 24th in the series, it was getting a bit stale. After finishing, I started a new series on the Kindle, The Killing Fog, the first in The Grave Kingdom series by Jeff Wheeler. Only problem with that is it is a new series, with #2 & #3 not arriving until later in the summer.
Good AT&T connection - 30.5MB down & 14.6MB up. I didn't check Verizon, although they showed a far weaker signal.
Dinner was a Bubba Burger & applesauce.
Until Tomorrow -
---
This page is maintained by: vermilye@oswego.edu
Last Update: March 11, 2020