2021 - 2022 Trip To The Southwest
Day 1, Anne & Guido's, Binghamton, NY
2011 Trip across the US
2012 Trip across the US
2014 Trip across the US
2015 Trip to Alaska
2015-16 Southwest Trip
2016 New England Trip
2016 - 17 Southwest Trip
2017 - 18 Trip to Pick Up a New Escape 21 Trailer & More
2018 - 19 Trip to Winnipeg & the Albuquerque Balloon Fiesta
2019 - 20 Trip to the Southwest
Previous
Next
Thursday, October 21, 2021 - Anne & Guido's, Binghamton, NY - 128.3 Miles, 128.3 Miles for the Trip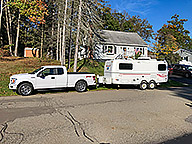 1st Stop
I'm at one of my usual stops when heading south - Anne & Guido's home in Binghamton. I wasn't sure I'd be able to stop since today is my son Kyle's birthday, but we decided to celebrate it last Sunday with a cake & his favorite meal (spaghetti & meatballs from scratch). Since he has to work today and he is on the 2:00 - 11:00 shift, dinner wouldn't have worked. And, it is the last time for 6 months that he will have home made sauce. So, I headed out around noon.
The first stop was at the CAT scale to weigh the trailer. I did the usual two weighings, first with the truck & trailer, and the second with the truck alone. With both sets of weights, I could determine the trailer & tongue weight, as well as trailer axle & truck payload. I do have a Tow Ball Nose Weight Scale that lets me check tongue weight but I need a stop at the CAT scale to get the rest. I do need to use my calculator to determine the weight in pounds - the scale is marked in kilograms. The Tow Ball Nose Weight Scale read 215 kg or 473.994 pounds. At the CAT scale the first weighing resulted in 3060 Front Axle, 3480 Drive Axle, and 4400 Trailer Axle for a Gross Weight of 10,940 pounds. After unhooking the trailer & doing a second weighing with just the truck, the results were 3260 Front Axle, 2740 Drive Axle, and, of course, 0 for the trailer axle, for a Gross Weight of 6000 pounds. So, if the truck & trailer weigh 10,940 pounds, and the truck alone weights 6000 pounds, the full trailer weight must be the difference or 4900 pounds (about 40 pounds heavier than when I left for the Southwest in 2019). Tongue weight calculates as the trailer weight minus the axle weight or 4900 - 4400 or 500 pounds. While not exactly the same as the manual Tow Ball Nose Weight Scale gave, it is within the error ratings of each.
I stopped for gas in Binghamton (3.49 per gallon), then heading towards Anne & Guido's house, saw them across the street coming out of a plaza. So, I beat them home. I put together today's journal entry & posted it.
We are heading to the Spot Diner for dinner.
After dinner we are going to see 3 one act plays and a short stay at the after opening party, so I did my 7:00 eye drops a bit early.
Until Tomorrow -
Previous
Next
---
This page is maintained by: vermilye@oswego.edu
Last Update: October 21, 2021