2021 - 2022 Trip To The Southwest
Day 6, Hungry Mother State Park, Marion, VA
2011 Trip across the US
2012 Trip across the US
2014 Trip across the US
2015 Trip to Alaska
2015-16 Southwest Trip
2016 New England Trip
2016 - 17 Southwest Trip
2017 - 18 Trip to Pick Up a New Escape 21 Trailer & More
2018 - 19 Trip to Winnipeg & the Albuquerque Balloon Fiesta
2019 - 20 Trip to the Southwest
Tuesday, October 26, 2021 -Hungry Mother State Park, Marion, VA - 215.5 Miles, 737.0 Miles for the Trip
While we did get some late afternoon rain yesterday, and a few rumbles of thunder, no major downpour. It was a cold morning at 52°F and 56°F in the trailer. I didn't feel cold under the flannel sheets, blanket, and bedspread, but making breakfast left me wishing I had left the electric hookup! I finally fired up the furnace.
After breakfast I packed the stuff away for traveling, then headed out of the park. A long, boring drive south on I 81. One stop & go section for a single lane merge, and lots of truck traffic, but uneventful. I drove past a couple of $3.15 per gallon gas stations, but didn't stop. I looks like $3.21 here in Marion.
My GPS likes to take me into the park from the other end from where Burson Campground is located through something called the Dragon's Tail (A correction - it is named the Back of the Dragon, not the Dragon's Tail, which is in North Carolina). My GPS also yelled at me because the Back of the Dragon has a 38' length limit. I'm 43' with the truck & trailer, however I suspect the limit is for something that doesn't bend in the middle. Some day I'll drive out the other side of the park to see what the Back of the Dragon is all about. Anyhow, I need to remember to get off one stop before the one it wants & take the Park Road off US 11. I did remember to get off at the correct exit, and stopped at Food City for supplies. They remembered my phone number so I got the weekly discounts (and earned 39 "Fuel Bucks" that I'll never use).
The last few times I arrived at the park with an undesignated site, I had to stop at the office to register. I stopped there & discovered that I could pick from any of the non designated sites & my paperwork was in an envelope at the campground building. I drove around & picked site 40, which has a pretty maple tree in nice fall colors behind the trailer. There are already 5-6 fiberglass trailers in the park, mixed with a number of stick built trailers & motorhomes. Site 40 is a water & electric site for $43.12 per night including sales tax & a $5.00 transaction fee.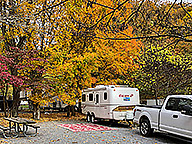 Site 40
I don't know why, but at 52°F here it feels much colder than it did at Natural Chimneys. By the time I had the utilities connected, the jacks down & the welcome sign up, my fingers were numb. I do remember that the bathrooms, including separate showers are heated. They also have a laundry at $1.50 per load, so I'll probably do my first laundry of the trip tomorrow.
A bunch of us got together to chat, but I ducked out early - it is too cold for me! I watched a couple of owners setting up Clams. While they will keep the wind down, particularly if you add the sides, it is still chilly. Maybe it is the thin air - we are at 2000'.
Dinner was a chicken sandwich & more of the Bush Bourbon & Brown Sugar beans; there are still enough beans left for one more meal. I wish they sold their Bourbon & Brown Sugar beans in their small cans, but I've never found them in anything other than a 22 ounce can.
Until Tomorrow -
---
This page is maintained by: vermilye@oswego.edu
Last Update: October 27, 2021