2021 - 2022 Trip To The Southwest
Day 8, Hungry Mother State Park, Marion, VA, Day 3
2011 Trip across the US
2012 Trip across the US
2014 Trip across the US
2015 Trip to Alaska
2015-16 Southwest Trip
2016 New England Trip
2016 - 17 Southwest Trip
2017 - 18 Trip to Pick Up a New Escape 21 Trailer & More
2018 - 19 Trip to Winnipeg & the Albuquerque Balloon Fiesta
2019 - 20 Trip to the Southwest
Thursday, October 28, 2021 - Hungry Mother State Park, Marion, VA, Day 3 - 0 Miles, 737.0 Miles for the Trip
Not many new arrivals today, although a few arrived, and a couple left. Casita owner Holly & Suze pulled into the site across from me. Many of the sites have October 29th stickers on the posts, so I suspect things will empty of many of the stick built trailers & fill with fiberglass tomorrow. There is a sign at the entrance that the park is fully reserved and no sites are available, even though there are many empty sites at the moment. Maybe there will be a number of late afternoon arrivals. I was hoping the the 2 sites next to mine that emptied this morning would fill with fiberglass, however a mid sized MiniLite trailer moved into the site on the right.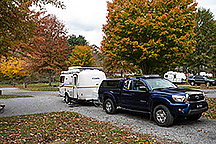 New Arrival
I drove to Walmart for a new pair of sweatpants - my shower sweatpants were getting a bit ragged. I also filled the gas tank. So far gas is costing almost as much as campsites. The 36 gallon gas tank is great for being able to choose where and when you fill up, and gives you great range when towing, but a fill up from a 1/4 tank can be a shock. $79.48 today.
I was going to make another round of the campground to be sure no one sneaked in without me seeing them, but a light rain started. It is now raining off & on & I'm in the trailer.
By the way, the Burson Campground has good Verizon data coverage, but no AT&T. I got 61.4Mbps down and 12.9Mbps up on Verizon, using Speakeasy.
Another by the way - I found an NPR station, WETS at 89.5. The "Seek" function on my trailer radio couldn't find it, but the truck did. Weak, fading in & out during the morning, but OK right now. I still have not found a radio for the trailer that has the sensitivity of the truck radio. At this point, after trying 4 different radios, I will stick with the Sony that I have.
Dinner was a going to be a grilled chicken thigh, but turned into a baked chicken thigh because of the rain, along with oven roasted potatoes. The leftover beans are going to get tossed...
Until Tomorrow -
---
This page is maintained by: vermilye@oswego.edu
Last Update: October 29, 2021