2021 - 2022 Trip To The Southwest
Day 21, Pecan Valley RV Park & Farm, Junction, TX
2011 Trip across the US
2012 Trip across the US
2014 Trip across the US
2015 Trip to Alaska
2015-16 Southwest Trip
2016 New England Trip
2016 - 17 Southwest Trip
2017 - 18 Trip to Pick Up a New Escape 21 Trailer & More
2018 - 19 Trip to Winnipeg & the Albuquerque Balloon Fiesta
2019 - 20 Trip to the Southwest
Wednesday, November 10, 2021 - Pecan Valley RV Park & Farm, Junction, TX - 234.1 Miles, 2,290.9 Miles for the Trip
Two of the four RVs in the park left this morning, leaving 2 besides the host. A warm night - it didn't go below 62°F.
Most of today's drive was on TX 21, TX 71 & US 290 with a short run at the end on I 10. I arrived at the Pecan Valley RV Park & Farm around 2:30. It is a pecan farm with goats and chickens. The chickens are good at getting out of the way as you pull in; the goats are in a pen. They also have a vegetable garden with the bushiest tomato plants I've ever seen.
| | | | |
| --- | --- | --- | --- |
| | | | |
| Decorations | North Llano River | Bushy Tomato Plant | The Goats |
I'm in site 2, a full hookup site that required leveling front & to the sides. There are a bunch of wood leveling blocks at the site. The owner meets you at the entrance & guides you to your site. $42.00 per night - I'm here for two nights. A pretty RV park with decorations all over the place. This is a replacement for the South Llano River State Park I had planned to stay in, but sent me an email canceling the reservation because of a hunt. Windy & hot - 82°F at 3:00. Since I gained almost 2000', I hope it will cool off tonight.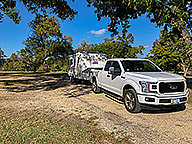 Site 2
I didn't have to unhook, but because I am staying two days, and want to hit a store, I did. Otherwise, the front of the trailer was close enough that I could have leveled it while still connected to the truck.
After setting up, I checked to see if there was an internet connection - Good AT&T at 21.2Mbps down & 10.8Mbps up. I then went for a walk around the campground, checking out the garden, goats & the North Llano river that borders the campground.
After my walk I headed to Lowes, the grocery store, not the hardware store. A mid sized market with just about everything one needs (except I couldn't find vitamin E). I picked up some egg potato salad & a broasted chicken for dinner (and tomorrow's dinner as well).
Until Tomorrow -
---
This page is maintained by: vermilye@oswego.edu
Last Update: November 11, 2021