2021 - 2022 Trip To The Southwest
Day 36, Pancho Villa State Park, Columbus, NM, Day 5
2011 Trip across the US
2012 Trip across the US
2014 Trip across the US
2015 Trip to Alaska
2015-16 Southwest Trip
2016 New England Trip
2016 - 17 Southwest Trip
2017 - 18 Trip to Pick Up a New Escape 21 Trailer & More
2018 - 19 Trip to Winnipeg & the Albuquerque Balloon Fiesta
2019 - 20 Trip to the Southwest
Thursday, November 25, 2021 - Pancho Villa State Park, Columbus, NM, Day 5 - 0 Miles, 3,128.3 Miles for the Trip
Happy Thanksgiving!
A cool, rainy night. Still overcast this morning with light to medium steady rain. Not enough to puddle on the ground, but enough to discourage a walk around the park.
I should mention the showers - I visited them yesterday afternoon. The bathrooms are heated, although barely, and there are two shower stalls in the men's central bathroom. Both have fine spray water saver showerheads, although the kind that shoot out many fine streams rather than one central stream (the spray doesn't cool as fast). It took 5 minutes for the water to get hot, but once it was hot it was fine. Very soft water - you spend more time rinsing than washing. As to the physical space, I ended up in the handicap shower & it was quite large, had a shelf for your stuff, a large drying room with a bench and one dual hook. A shower curtain that was long enough so little water leaked under it. Rubber mat on the drying room floor. The other shower has the same size stall & a smaller drying area. Both have upper & lower shower heads. I'd give them a solid B, better if the water wasn't quite so soft & they had standard shower heads.
After breakfast I sat in the trailer reading. Still cold & rainy out at 43°F at 10:30AM.
While I can't roast my usual 20+ pound Plainville Turkey & all the fixings here in the trailer, I did buy a turkey breast that will fit in the tiny oven, some stove top stuffing, gravy mix in case there isn't enough grease from the breast to make some, cranberry sauce, etc. I do wounder why you can buy a turkey breast, and often turkey legs, but not a turkey thigh. Seems like they would have twice as many of each unless they are raising very strange turkeys. Actually, I did see turkey thighs in a store a couple of years ago, but none since. I prefer dark meat so would prefer the thigh. In any case, the turkey breast is in the oven. Dinner is planned for around 3:00 since that is the traditional time at home.
I've noticed a marked increase on internet ads during this pre "Black Friday, Internet Monday" period. I am hearing from companies that I haven't received email from in over a year. Many have changed their source address so they bypass my junk/spam mailboxes.
I don't usually do food photos, but since I don't have one for today's post, and I went to the trouble of making a Thanksgiving dinner, I'm sticking one here.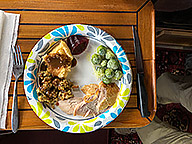 Thanksgiving Dinner
Everything cooked as expected, however the Jennie O turkey breast is one of the toughest I've had. Guess I'm used to Plainville turkeys. The other "problem" is there is no one here to do the dishes. When I do either an actual Thanksgiving turkey or my "Thanksgiving in July" dinner, there is a crowd, some of which insist that since I made the dinner, they would do the dishes (Thanks Anne & Kitty and others). Of course there is a negative - it takes me a month to find where they decided things should go. No one here but me and my 13" X 10" sink. Only took half an hour so now I can relax. I'll have a turkey sandwich for a late dinner. (or should I call it supper?) In any case, I have enough turkey for days.
Until Tomorrow -
---
This page is maintained by: vermilye@oswego.edu
Last Update: November 26, 2021