2021 - 2022 Trip To The Southwest
Day 42, Gilbert Ray Campground, Tucson, AZ
2011 Trip across the US
2012 Trip across the US
2014 Trip across the US
2015 Trip to Alaska
2015-16 Southwest Trip
2016 New England Trip
2016 - 17 Southwest Trip
2017 - 18 Trip to Pick Up a New Escape 21 Trailer & More
2018 - 19 Trip to Winnipeg & the Albuquerque Balloon Fiesta
2019 - 20 Trip to the Southwest
Wednesday, December 1, 2021 -Gilbert Ray Campground, Tucson, AZ - 140.1 Miles, 3,459.4 Miles for the Trip
A lazy, late start, leaving Whitewater Draw around 10:30. Not as cold last night, only down to 38°F. I fell asleep around 8:30 listening to a very bad book on tape, so I was awake at 5:00AM. While I slept off & on until my 7:00 eye drops, I did get to hear the Sandhill Cranes leave. Lots of noise & it was still too dark to take photos (at least that was my excuse for not getting out of bed).
The website for Gilbert Ray says that there is no one at the office this time of year, but there was a sign requiring you to stop in & register. I stopped in - no registration, but they did have a packet for me that listed my site, the rules & a site tag.
I'm in site 56, an electric only (all sites are electric only) 30 amp site for $20.00 per night. There are bathrooms with running water, but no showers. There are a couple of water fill stations and a dump station. The sites are on gravel and fairly level, at least side to side. I had to raise the tongue 3 1/2" to level the trailer. I'm here for 3 nights. Lots of pretty cactus scattered around the campground. There are lots of complaints about pack rats building nests in vehicle engines - some put lights underneath, prop up the hood, etc to discourage them. Others ignore them.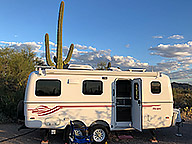 Site 56
After setting up I ran errands. First to Walgreens to pick up a couple of prescriptions. The longest wait I've had at a prescription counter other than the CVS at Parker, AZ. The next stop was at Oilstop for an oil change. I usually go to the dealer, but when I called the two Ford dealers in Tucson, they were booking for the week of the 20th, by which time I'd be long gone. I have not had much luck with Jiffy Lube, but found Oilstop with a Google search. Not the least expensive at $137.90 for Mobil 1, and they sure did their best to up sell just about every add on product made, although they took no well. Next was CVS for a couple of cans of Cashew Macadamia Nut Blend. While not inexpensive at over $7.00 per 8 ounce can, they are the best nuts I've found. Large cashews and plenty of Macadamias. I made a short stop for milk, yogurt & more at Food City. I went to all the trouble of putting their card on my CardStar app, found it & showed it to the lady at the checkout. She shrugged - evidently, they don't do member discounts anymore.
After that it was back to the trailer. I put 60 miles on the truck just doing errands. Gas is a bit more expensive here in Tucson - going for around $3.59 per gallon.
I took couple of quick sunset photos. The light & color at Gilbert is amazing.
Sunset At Gilbert Ray Campground
Dinner was a chicken quarter from Food City.
Until Tomorrow -
---
This page is maintained by: vermilye@oswego.edu
Last Update: December 2, 2021