2021 - 2022 Trip To The Southwest
Day 50, La Posa West LTVA, Quartzsite, AZ
2011 Trip across the US
2012 Trip across the US
2014 Trip across the US
2015 Trip to Alaska
2015-16 Southwest Trip
2016 New England Trip
2016 - 17 Southwest Trip
2017 - 18 Trip to Pick Up a New Escape 21 Trailer & More
2018 - 19 Trip to Winnipeg & the Albuquerque Balloon Fiesta
2019 - 20 Trip to the Southwest
Thursday, December 9, 2021, La Posa West LTVA, Quartzsite, AZ - 167 Miles, 3,758.5 Miles for the Trip
Not too bad driving through Phoenix on the 202 Bypass & I 10, although there was a slowdown at the junction between them. A bit of sun, but mostly cloudy, particularly after I got to Quartzsite. I purchased the 7 month pass even though I might have saved $40.00 if I purchased 4 14 day passes. The long term pass is easier to deal with rather than stopping in the office every 14 days for a new one.
There are definitely changes. One that I'll miss is Sweet Darlene's is gone. Someone at the Quartzsite Facebook site mentioned that it was gone, but I didn't realize that the entire building was gone. I sure am going to miss the Friday all you can eat fish dinners. Others in town have fish dinners, but Sweet Darlene's was the best.
I drove into La Posa West to the area I usually set up & there is a Class A in the spot I usually pick. There was only one other RV in the general area, so I had no problem finding a location. I spent some time orienting the trailer with the rear to the south so I could tilt the solar panels. An almost level site (off by 1" side to side and level front to back). After setting up, I got out the folding ladder & tilted the panels. I'm going to have to check out the vehicle charging circuit - I normally get 9 amps from the truck through the DC to DC converter, but I checked a couple of times on the drive & I was only getting amps from the solar panels (and not much since it was cloudy). I arrived at Quartzsite down to 71% with 93 amp hours consumed. Hope we have some sun tomorrow!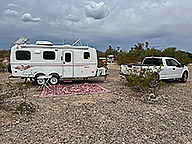 La Posa West
I put out the hummingbird hangers, but didn't fill the feeder, put out the plastic mat after 15 minutes of raking to remove the larger rocks, and set up the folding table. That was about it for the afternoon.
Dinner was a deep Indian Kitchen Butter Chicken microwaved meal.
Until Tomorrow -
---
This page is maintained by: vermilye@oswego.edu
Last Update: December 10, 2021