2021 - 2022 Trip To The Southwest
Day 54, La Posa West LTVA, Quartzsite, AZ, Day 5
2011 Trip across the US
2012 Trip across the US
2014 Trip across the US
2015 Trip to Alaska
2015-16 Southwest Trip
2016 New England Trip
2016 - 17 Southwest Trip
2017 - 18 Trip to Pick Up a New Escape 21 Trailer & More
2018 - 19 Trip to Winnipeg & the Albuquerque Balloon Fiesta
2019 - 20 Trip to the Southwest
Monday, December 13, 2021, La Posa West LTVA, Quartzsite, AZ, Day 5 - 0 Miles, 3,758.5 Miles for the Trip
Every year I see some sort of unusual living at Quartzsite. Tiny houses on wheels, a large boat on a trailer, camping in a hearse, and last year a guy with a motorhome towing a trailer with 4000 watts of solar and 12K of lithium batteries (not only did he run the motorhome, but kept his Chevy Volt charged). This year it is a converted bus with "Jewel" hand painted on the side & an attached chicken coop (and, of course, the chickens). Hope it is coyote proof!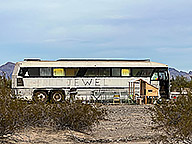 The Bus & Chickens
After my walk for coffee & the rest of the Cinnamon Rolls, I packed up the laundry and headed for the laundromat. I usually take a shower while my clothes are in the dryer, but skipped it this time. The price has gone up to $10.00, and while less expensive than the truck stops, I can hold out for a couple of days. Felt a little strange in the laundromat - I was the only one wearing a mask.
After folding the laundry, I drove across the street to the Roadrunner grocery store for a loaf of bread & a steak.
I figured out why the latest Lee Child book Better Off Dead was not up to his usual standards - he is turning over the writing to his younger brother Andrew, who coauthored the last two Reacher books. The Sentinel, the first of the coauthored Reacher books was readable, but this one is terrible. If it was me, I'd let the character die. The NY Public Library notified me that Diane Gabaldon's 8th Outlander book Written In My Own Heart's Blood is in. I downloaded it but will wait to start until after I finish The Dead Priest of Sedona by Charles Williamson. Not great writing, but I do like the Sedona area. They give me 21 days to read a book so unless #8 is even longer than #7, I should be able to finish it.
I haven't been listening to many recorded books since I'm not doing a lot of driving. I do listen during my morning walk, but that is shorter than most drives. I have been trying "Chirp", a source of discounted recorded books. I've purchased 3 so far and even though one of them was an author I've read & enjoyed, all the recorded books from them have been boring. I think I know why they are discounted! Since the NY Public Library only allows 3 works (recordings or Kindle) at one time, I wanted to have a recorded book or two available for when I reached my limit at the library. I may try one or two more, but so far have been disappointed.
I checked my propane tanks, and one was empty. The 76 sells propane from 8:00 - 4:00 and it was 3:45 so I grabbed the tank and headed out. I arrived at 3:50, and discovered that the guy that pumps it left 5 minutes ago. Looks like I'll be driving for coffee tomorrow!
Dinner was the steak & Southwestern Mixed Vegetables.
Until Tomorrow -
---
This page is maintained by: vermilye@oswego.edu
Last Update: December 14, 2021