2021 - 2022 Trip To The Southwest
Day 56, La Posa West LTVA, Quartzsite, AZ, Day 7
2011 Trip across the US
2012 Trip across the US
2014 Trip across the US
2015 Trip to Alaska
2015-16 Southwest Trip
2016 New England Trip
2016 - 17 Southwest Trip
2017 - 18 Trip to Pick Up a New Escape 21 Trailer & More
2018 - 19 Trip to Winnipeg & the Albuquerque Balloon Fiesta
2019 - 20 Trip to the Southwest
Wednesday, December 15, 2021, La Posa West LTVA, Quartzsite, AZ, Day 7 - 0 Miles, 3,758.5 Miles for the Trip
A windy night. While my trailer was fine, a number of tents and awnings had problems. Around 11:00PM the wind died down & the clouds disappeared.
Coffee was $1.20 this morning. I guess pricing is "whatever".
I read for awhile, reset the hummingbird feeder & hummingbird mobile stands, then went to the Coyote Market (used to be the Quartzsite General Store) for milk. It is where I usually purchase meat, but since I have the next couple of dinners already planned, I'll wait a bit before heading there again. I even spent some time reading forums in the internet. AT&T seemed to be having a good day, at least up until 4:00.
Dinner was a grilled chicken thigh, rice & green beans.
I usually make a run to the trash dumpster after dinner. I use grocery store bags for trash (I have this handy plastic thing that the bags streatch across) & they hold about a day's worth. Since I don't have a photo for today, I decided to take one of the moon over the dumpster. Actually, there is a bit of news about the dumpsters - in the past they had 4 standard flip top campground dumpsters, but his year they have switched to a rolloff. It holds more, which is good for having not to fight to get your bag in, although I don't think it would be all that pleasant downwind on hot days.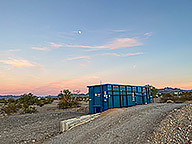 Moon Over The Dumpster
Until Tomorrow -
---
This page is maintained by: vermilye@oswego.edu
Last Update: December 16, 2021