2021 - 2022 Trip To The Southwest
Day 67, Rice Ranch South, Quartzsite, AZ
2011 Trip across the US
2012 Trip across the US
2014 Trip across the US
2015 Trip to Alaska
2015-16 Southwest Trip
2016 New England Trip
2016 - 17 Southwest Trip
2017 - 18 Trip to Pick Up a New Escape 21 Trailer & More
2018 - 19 Trip to Winnipeg & the Albuquerque Balloon Fiesta
2019 - 20 Trip to the Southwest
Other Trips
Sunday, December 26, 2021, Rice Ranch South, Quartzsite, AZ - 6 Miles, 3,764.5 Miles for the Trip
Well things certainly can change! Another cold morning, but this time it wasn't a problem with the thermostat - the furnace is dead. I suspect the sail switch or gas valve. When the thermostat calls for heat the fan starts & runs for 15 seconds, but the "click" of the gas valve opening doesn't happen, and the fan shuts down.
While I can sleep OK at the 50°F temperatures, the problem is to work on the furnace it must be removed, which means shutting off the gas, which means no refrigerator unless I have AC. So, I packed up the trailer and headed for one of the near by RV parks. There are many of them in Quartzsite, but many are already filled. I found lots of space at Rice Ranch South, and am in site I 11, an electric & water site for $27.50 per night, their daily rate. About as basic as you can get - no picnic table, bathrooms, showers, etc. Just a large parking lot with hookups. Each site does have a sewer connection, but I was given a lower rate for not using it. I stopped by the dump station on my way out of the LTVA so I should be good. I'll top off the fresh water tank when I leave.
I called Blue Line Mobile RV Service and am waiting for a call back.
I have to say Jeff Kreutzer of Blue Line Mobile RV Service is as good as it gets. He called back within an hour, arrived within 20 minutes of the phone call, found the problem - the sail switch, and had everything back together within 45 minutes. Charge for the on site service call was $67.50. I've paid more than that just to have a shop look at my trailer!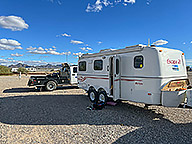 Repairs Underway
I told the people here at Rice Ranch South I was expecting to stay for a week - I think I'll shorten that to 2 days.
Dinner was a pot roast sandwich & applesauce.
Until Tomorrow -
---
This page is maintained by: vermilye@oswego.edu
Last Update: December 27, 2021