2021 - 2022 Trip To The Southwest
Day 69, La Posa West LTVA, Quartzsite, AZ, Day 18
2011 Trip across the US
2012 Trip across the US
2014 Trip across the US
2015 Trip to Alaska
2015-16 Southwest Trip
2016 New England Trip
2016 - 17 Southwest Trip
2017 - 18 Trip to Pick Up a New Escape 21 Trailer & More
2018 - 19 Trip to Winnipeg & the Albuquerque Balloon Fiesta
2019 - 20 Trip to the Southwest
Other Trips
Tuesday, December 28, 2021, La Posa West LTVA, Quartzsite, AZ, Day 18 - 1 Miles, 3,765.5 Miles for the Trip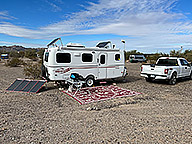 Back at La Posa West LTVA
Well, as you can see by today's photo, I'm back at the LTVA. While I was gone one of the Class B's moved into my previous location. No problem - I just found another piece of La Posa West about 100' away! You can see the van & my old location between the trailer & truck.
It took about 2 1/2 hours to set back up. The wind was only averaging 11MPH with 15MPH peaks, so I dug out the ladder and tilted the roof solar panels. I shortened the horizontal bars on the portable panel frame which will stop the end panels from swinging towards the frame, but don't yet have the clamps I need to keep them from blowing the other way. I put the medium length legs on the portable panel. Not quite as much gain as I get with the long legs that put the panels at a better angle for the morning sun, but less likely to be blown over.
I have a Zumimall camera that sends a photo to my phone. Since the Escape 21C does not have a front window, I wanted to be able to "see" out front when I heard something. I had been stuffing the camera under the truck windshield wiper with little success, so as long as I had the ladder out, I mounted it on one of the front solar panel supports. I suspect it would be OK driving, but being nailed by bugs might be a problem. The other problem is it detects movement & let me know to look at a photo (a video will be available after I find a micro SD card). I really don't want a continuous stream of pictures of the back of the truck going down the road!
I'm glad I did all the ladder stuff when I first arrived. While it was nice enough to stop completely when I went to put the outside rug down, the wind is getting stronger, now averaging 13MPH with 20MPH peaks.
My neighbor mentioned that one of the "stores" across from the Post Office had clamps, and I found 6" spring clamps that look like they will keep the panels on the frame. Today's wind is a good test.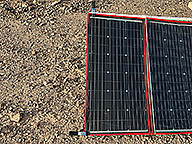 The Clamps
With all the energy I consumed setting up the trailer, I decided it would be a good day to pick up Chinese for dinner. Actually, an excuse to avoid making dinner.
Until Tomorrow -
---
This page is maintained by: vermilye@oswego.edu
Last Update: December 29, 2021