2021 - 2022 Trip To The Southwest
Day 72, La Posa West LTVA, Quartzsite, AZ, Day 21
2011 Trip across the US
2012 Trip across the US
2014 Trip across the US
2015 Trip to Alaska
2015-16 Southwest Trip
2016 New England Trip
2016 - 17 Southwest Trip
2017 - 18 Trip to Pick Up a New Escape 21 Trailer & More
2018 - 19 Trip to Winnipeg & the Albuquerque Balloon Fiesta
2019 - 20 Trip to the Southwest
Other Trips
Friday, December 31, 2021, La Posa West LTVA, Quartzsite, AZ, Day 21 - 0 Miles, 3,765.5 Miles for the Trip
A warmer than usual night, only going down to the high 40's. The replacement thermostat worked fine & I was toasty all night. A bit of sun came out as I left for the walk for coffee, but while it didn't rain, there was a very heavy mist in the air that condensed on my sweatshirt.
After getting back to the trailer I had an English muffin for breakfast & read a bunch of forums on the computer.
I decided to set up the Clam. I figure it will be a place out of the wind to sit outside the trailer. The plastic stakes that come with the Clam are useless in the Quartzsite desert. Hitting them with a hammer just messes up the top of them. I used the 20 penny nails I bought at KB Tools.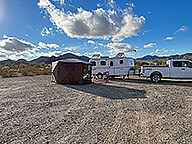 The Clam
More Winnebago Travatos showed up - we now have 5 of them here at La Posa West, all women traveling alone & all friends. Rumor has it more are on the way.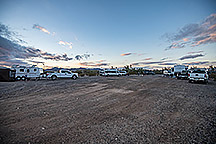 5 Travato Vans
We had a one of the first very colorful sunsets of this year's stay at Quartzsite: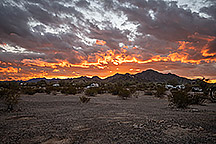 Sunset
I sat around chatting with some throughout the afternoon. Lou & Judy in the 5th wheel put together a chicken chili soup for dinner. We all brought something to add, and had a nice New Years dinner. I got to use my new fire starter (a propane weed burner) to fire up a campfire and we sat around talking until 7:00 or so when I headed in to do my eye drops & everyone else headed back to their vans.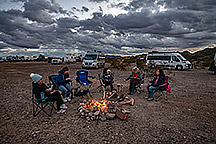 Around The Campfire
Dinner was the get together for Chicken Chili Soup.
Until Tomorrow -
---
This page is maintained by: vermilye@oswego.edu
Last Update: January 1, 2022