2021 - 2022 Trip To The Southwest
Day 77, La Posa West LTVA, Quartzsite, AZ, Day 26
2011 Trip across the US
2012 Trip across the US
2014 Trip across the US
2015 Trip to Alaska
2015-16 Southwest Trip
2016 New England Trip
2016 - 17 Southwest Trip
2017 - 18 Trip to Pick Up a New Escape 21 Trailer & More
2018 - 19 Trip to Winnipeg & the Albuquerque Balloon Fiesta
2019 - 20 Trip to the Southwest
Other Trips
Wednesday, January 5, 2022, La Posa West LTVA, Quartzsite, AZ, Day 26 - 0 Miles, 3,765.5 Miles for the Trip
I didn't mention in yesterday's post that it did get up to 65°F and stayed warm enough to enjoy sitting outdoors & grilling dinner.
Here is an image taken a couple days age from the Zimimall Camera mounted on the roof of the trailer. As you can see, the image quality isn't all that hot, and it doesn't always catch a vehicle driving by the front of the trailer.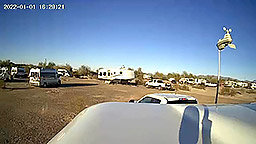 The Front Looking Zimimall Camera
I took a photo of the Big Tent poles - I suspect they will hoist the tent itself soon.
The Tent Poles
After the walk for coffee I made breakfast, read for a bit & called the folks at Micro-Air. They suggested doing an software update to the thermostat since others have had the same problem with the version I'm running. Only problem with that is I have to hook up the thermostat to update it & I'm not going to do that until I end up in a site that has electricity so I can run an electric heater. If it gets really hot here I might take a chance and try it without a backup, but the thing has a 2 year warranty and it is less than a year old.
After that I headed to Blythe, CA to pick up a prescription. I use the Rite-Aid there even though I usually shop in Parker because both the CVS & Walmart in Parker usually have at least a half hour wait at the prescription counter. The last straw was when I waited 2 hours at CVS. Only 15 minutes at Rite-Aid, and I get to visit a different grocery store - Blythe has an Albertsons, although as far as I know, Albertsons owns Safeway.
A nice day. While only 58°F at 2:00, with the strong sun it was comfortable sitting outside. I read for a bit.
Dinner was a Turkey Bubba Burger so I could finish off the heirloom tomato I found at Safeway, beans, and a large fruit cup.
Until Tomorrow -
---
This page is maintained by: vermilye@oswego.edu
Last Update: January 6, 2022