2021 - 2022 Trip To The Southwest
Day 79, La Posa West LTVA, Quartzsite, AZ, Day 28
2011 Trip across the US
2012 Trip across the US
2014 Trip across the US
2015 Trip to Alaska
2015-16 Southwest Trip
2016 New England Trip
2016 - 17 Southwest Trip
2017 - 18 Trip to Pick Up a New Escape 21 Trailer & More
2018 - 19 Trip to Winnipeg & the Albuquerque Balloon Fiesta
2019 - 20 Trip to the Southwest
Other Trips
Friday, January 7, 2022, La Posa West LTVA, Quartzsite, AZ, Day 28 - 0 Miles, 3,765.5 Miles for the Trip
A warm night - the furnace didn't come on until 11:30, and the lowest overnight temperature was 45°F, 65°F by 11:30, and 75°F by late afternoon.
I made coffee in the trailer rather than wait until the 76 station opened at 10:30. Making a pot of drip coffee & toasting a bagel used about 10 amp hours, so I was down to 85% after breakfast. At 11:30, the solar panels are putting out 400 watts, and the batteries are back up to 95%. I could get another 100 watts or so by going to the longer legs on the portable panel, but as long as the short ones work, I'll stick with them rather than fighting the wind. Besides, even with the short legs, the batteries were full by noon.
The weather was beautiful. Since I didn't do a walk for coffee, I walked to the KB store to purchase some 5 amp fuses, large washers & a cool white string of solar powered LEDs. Got back to the trailer, charged up the LEDs and they were three color, even though the box said cool white. I went back & traded them in for the right ones. On the walk back I took a photo of the tent: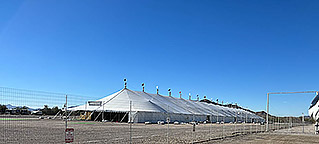 The Big Tent
I sat outside doing some listening to Go Tell The Bees That I Am Gone and reading the third book of the Argentines series, Lady's Ransom. Since I had the phone, I decided to do a video of a hummingbird. Of course as soon as I held up the phone the hummingbirds stopped showing up. Eventually, one did so I uploaded the video to YouTube.
Dinner was a Bubba Burger, fruit salad and a Cheesecake Crumble for dessert.
Until Tomorrow -
---
This page is maintained by: vermilye@oswego.edu
Last Update: January 8, 2022