2021 - 2022 Trip To The Southwest
Day 91, La Posa West LTVA, Quartzsite, AZ, Day 40
2011 Trip across the US
2012 Trip across the US
2014 Trip across the US
2015 Trip to Alaska
2015-16 Southwest Trip
2016 New England Trip
2016 - 17 Southwest Trip
2017 - 18 Trip to Pick Up a New Escape 21 Trailer & More
2018 - 19 Trip to Winnipeg & the Albuquerque Balloon Fiesta
2019 - 20 Trip to the Southwest
Other Trips
Wednesday, January 19, 2022, La Posa West LTVA, Quartzsite, AZ, Day 40 - 0 Miles, 3,765.5 Miles for the Trip
After breakfast I baked a blueberry pie. I'm not all that pleased with the fresh blueberries I picked up at Safeway. While the price was OK, a fair percentage of the blueberries were well past their prime. Had to hand pick through 2 18 ounce packages to get 6 cups of usable berries. Still, the pie is in the oven.
Another beautiful day at Quartzsite. 69°F outside and clear skies. No new arrivals in our area, but a converted school bus with an interesting paint job pulled in across the west wash, and the Casita is gone.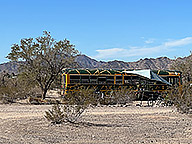 A Converted Bus
Dan, one of the early arrivals must have left yesterday or this morning. The 5th wheel next door prevents me from seeing his trailer & when I went to offer a piece of pie it looks like he packed up & left. There are now two RVs in his location.
I finished This Weightless World by Adam Soto, did a quick read of Lee Goldburg's True Fiction, and started the latest Chinle Miller's Bud Shumway series The Temple Mountain Cafe. I've read the first 14 of the series, and while a long way from "high quality fiction", I have enjoyed the descriptions of the parts of the country that I enjoy.
I handed out plates of blueberry pie, and, of course, kept some for me.
Dinner was a Saffron Road Chicken Pad Thai, a new one of their meals, at least for me. I like it!
Until Tomorrow -
---
This page is maintained by: vermilye@oswego.edu
Last Update: January 20, 2022