2021 - 2022 Trip To The Southwest
Day 93, La Posa West LTVA, Quartzsite, AZ, Day 42
2011 Trip across the US
2012 Trip across the US
2014 Trip across the US
2015 Trip to Alaska
2015-16 Southwest Trip
2016 New England Trip
2016 - 17 Southwest Trip
2017 - 18 Trip to Pick Up a New Escape 21 Trailer & More
2018 - 19 Trip to Winnipeg & the Albuquerque Balloon Fiesta
2019 - 20 Trip to the Southwest
Other Trips
Friday, January 21, 2022, La Posa West LTVA, Quartzsite, AZ, Day 42 - 0 Miles, 3,765.5 Miles for the Trip
While our area is getting a bit tight, we still have folks driving through looking for a spot. I'm glad the area around me is fairly sloped - many try, but can't get level enough to stay.
One of the Travato ladies (the one that went to Oswego) is back in the space she had before they all left. She went through the trials & tribulations of a warranty repair on her generator. She had to go all the way to Phoenix to find an "authorized" repair facility, given all kinds of grief dealing with rules, ie if they pull the generator & find it needs parts, the warranty only covers pulling the generator once & they probably don't have the parts, so she might need to come back in a couple of weeks & pay to pull the generator again. Ended up having a ground wire replaced & she only paid for the oil for an oil change, but it wasn't easy. Around 11:30 another Travato showed up. It will be crowded it they all come back, but so far those already here have been able to chase away non Travato group arrivals to keep the space available for the 2-3 that are planning to arrive tomorrow.
While my new neighbors are a bit closer than I'd like, they are nice enough people. Quiet generators, but a yappy dog. So far there is still enough room in front of the trailer to hook up, and behind the trailer to pull back in. It looks like I'll make it until tomorrow morning to head to the dump station.
Verizon, which was close to dead at 4:00PM yesterday, is working OK today, at least at noon. While a speed test shows 2.2 Mbps down & 1.5Mbps up, the larger image below loaded without a problem. We will see how it fairs around dinner time.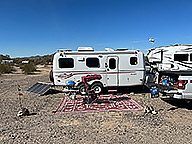 Notice The Difference?
What looks different? Yes, I folded the solar panels back to flat. While the aluminum arms I added to tilt them are strong enough, I am not sure about Escape's bolting of the panel mounts to the roof. If they are only bolted through the fiberglass roof, going down the road at 50MPH with the panels at almost 45° with the high end towards the front of the trailer could be a problem. Each year I say to myself why not try it, and each time I fold them down. It only takes about 20 minutes, and we are getting to the point where the arc of the sun is high enough that the flat panels, combined with the portable should provide enough amp hours to keep the batteries near full. Since I'm heading to Dome Rock in a little over a week, I'd just as soon leave them down. Worst case, I'll have to climb back up & tilt them.
Dinner was a grilled chicken leg quarter & mac & cheese. Macaroni & cheese is another one of those meals I don't make unless I know I have room in the gray tank and enough fresh water to clean a messy pot. Since I plan to dump tomorrow and the gray tank still shows 1/2 full, it will work. I'll also have half a slice of blueberry pie & ice cream for desert - the piece I had for yesterday was larger than I thought.
Until Tomorrow -
---
This page is maintained by: vermilye@oswego.edu
Last Update: January 22, 2022