2021 - 2022 Trip To The Southwest
Day 99, La Posa West LTVA, Quartzsite, AZ, Day 48
2011 Trip across the US
2012 Trip across the US
2014 Trip across the US
2015 Trip to Alaska
2015-16 Southwest Trip
2016 New England Trip
2016 - 17 Southwest Trip
2017 - 18 Trip to Pick Up a New Escape 21 Trailer & More
2018 - 19 Trip to Winnipeg & the Albuquerque Balloon Fiesta
2019 - 20 Trip to the Southwest
Other Trips
Thursday, January 27, 2022, La Posa West LTVA, Quartzsite, AZ, Day 48 - 0 Miles, 3,765.5 Miles for the Trip
A December like night - down to 34°F by morning. I still managed to be comfortable in a sweatshirt for the walk to coffee. By the way, for those interested, the price of propane at the 76 station went up from $2.80 to $2.95 with a new delivery of propane yesterday.
My closest neighbors in a travel trailer RV pulled out this morning. No more yappy dog & loud ATV. At least they did a good job of cleaning up their area before they left. At this point there is only one other RV (Lou & Judy's 5th wheel) here that was in the area in December.
I called in new prescriptions to my doctor's office and now have to sit around the trailer waiting for one of the nurses to call back. It usually only takes a couple of minutes, but it has been an hour.
The California Vixen group is getting smaller. At one time there were 12 of them here for the Big Tent show; today there are three plus some former owners driving other RVs. I chatted with them for a bit & got a photo. The Vixen is a 21' fiberglass motorhome built between 1986 & 1989. Some photos from 2016.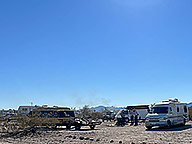 The Vixens & Friends
I finally heard back from a nurse at my doctor's office. Seems there are changes in NY prescription rules, or the office started following them - even for non scheduled drugs you must see your doctor within 6 months of a prescription fill. Since the last time I saw my doctor was for my physical on June 18th, I'm 40 days over the 6 month limit. Couldn't talk nurse Ratchet into letting me slip by, so I now have a Telemed visit with my doctor tomorrow. I hope the local internet is up to it - it froze on the "How to do a Telemed visit" page.
That was about it for the day. It did warm up - 65°F by 3:30, and not a cloud in the sky.
Dinner was a Barber Cordon Bleu meal with left over creamed spinach & mac & Cheese.
Until Tomorrow -
---
This page is maintained by: vermilye@oswego.edu
Last Update: January 28, 2022