2021 - 2022 Trip To The Southwest
Day 124, Twin Peaks Campground, Organ Pipe Cactus National Monument, AZ
2011 Trip across the US
2012 Trip across the US
2014 Trip across the US
2015 Trip to Alaska
2015-16 Southwest Trip
2016 New England Trip
2016 - 17 Southwest Trip
2017 - 18 Trip to Pick Up a New Escape 21 Trailer & More
2018 - 19 Trip to Winnipeg & the Albuquerque Balloon Fiesta
2019 - 20 Trip to the Southwest
Other Trips
Monday, February 21, Twin Peaks Campground, Organ Pipe Cactus National Monument, AZ - 196.8 Miles, 4,430.1 Miles for the Trip
Mittry Lake road is definitely a busy thoroughfare. Traffic didn't die down until 11:30PM, and started up at 7:00AM. With the windows closed (temperature was down to 49°F by 7:00AM) the noise wasn't bad. We did have a pleasant sunset:
I headed out around 10:00, stopping at a Walmart where US 95 intersects with I 8 to refill the freezer and grab a couple of their chocolate mousse desserts, and Gila Bend for gas at a very busy Loves truck stop for $3.76 per gallon. It took almost as much time to get out of the station as it did to fill the tank. It would have taken even longer if a helpful trucker hadn't let me slide in in front of him.
Fairly heavy clouds & 70°F for most of the drive, then after Ajo on AZ 85 the temperature started to drop Down to 63°F and windy by the time I arrived at the park. I'm in site 9, which is a generator site (I didn't notice when I reserved) with a near by bathroom with a solar shower. $10.00 per night for dry sites with the Senior Pass. The site is a pull through with a concrete slab and a concrete patio with a picnic table & charcoal grill. I had to raise the right side of the trailer 2.5" and the tongue 3.75". While the sites are rather close together, there are cactus between most of the sites. A large campground with over 200 sites. I have to admit that it would have been better to reserve further down the rows in the "no generators" area - Generator hours are 8AM - 10:00AM and 4:00PM - 6:00PM. At 4:00 it started sounding like a NASCAR parking lot. At least the hours are short.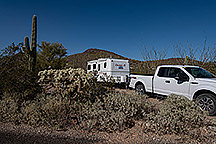 Site 9
After setting up I walked around some of the loops. Saw a number of fiberglass trailers including Casitas, Scamps, an Oliver and many Escapes. Some are folks that came here from the Quartzsite gathering. I took a few cactus photos:
| | | | |
| --- | --- | --- | --- |
| | | | |
| Cholla | Prickly Pear | Organ Pipe | Ocotillo in Bloom |
If the wind dies down & the sky remains cloudless, I'll try for some nighttime star photos. Organ Pipe is a "Dark Sky" location, although with all the RVs I might have to do a bit of hiking to get away from the outdoor lights.
Dinner was a Lean Cuisine Orange Chicken Bowl.
Until Tomorrow -
---
This page is maintained by: vermilye@oswego.edu
Last Update: February 22, 2022