2021 - 2022 Trip To The Southwest
Day 128, Desert Trails RV Park, Tucson, AZ
2011 Trip across the US
2012 Trip across the US
2014 Trip across the US
2015 Trip to Alaska
2015-16 Southwest Trip
2016 New England Trip
2016 - 17 Southwest Trip
2017 - 18 Trip to Pick Up a New Escape 21 Trailer & More
2018 - 19 Trip to Winnipeg & the Albuquerque Balloon Fiesta
2019 - 20 Trip to the Southwest
Other Trips
Friday, February 25, Desert Trails RV Park, Tucson, AZ - 134.8 Miles, 4,564.9 Miles for the Trip
Since I had a relatively short drive, I was in no hurry to get out of the campground. I left around 10:00. I checked the propane before I left & I was down one tank. My AllStays app showed propane at the Texaco station in Why, so I pulled in. Price was $3.99 par gallon + tax. Luckily. there was a sign on the propane pump saying "Out of Order". So, on I went. On Ajo Way west of Tucson I stopped at a gas station that had an ACE hardware store next door. ACE had propane at $2.64 including tax, so I got the tank filled. Not sure why, but the tank took 5 gallons, quite a bit more than the 4.7 it usually takes. Either their meter is off or I have a very full tank!
I pulled into the Desert Trails RV park around 1:00 & was assigned site 64, a full hookup site for $46.00 per night with taxes & fees. I guess my campground average price is going to start climbing. It was $12.43 per night up to today. The park has WiFi, but I couldn't find any of the networks provided in the handout. AT&T is 9.4Mbps down and 5.5Mbps up. Verizon is 55.5Mbps down & 5.6Mbps up.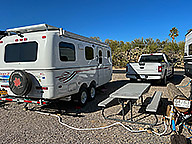 Site 64
After setting up I headed to the nearest Allstate office to get my NY proof of insurance card for the next 6 months. I really need to sit down with an independent insurance agent to see how much better I could do if I moved my auto & homeowners to someone other than Allstate. They keep getting more expensive with every renewal.
Back at the RV park I started 2 loads of laundry & changed the sheets on the bed. There is a taco truck sitting outside the laundry - sure is tempting for dinner. After dinner I did a 3rd load of laundry.
I had a couple of chicken tacos for dinner. They were pretty small, so I went back and got a sincronizada, which I have never heard of. More than enough on its own.
Until Tomorrow -
---
This page is maintained by: vermilye@oswego.edu
Last Update: February 26, 2022