2021 - 2022 Trip To The Southwest
Day 133, Gilbert Ray Campground, Tucson, AZ, Day 3
2011 Trip across the US
2012 Trip across the US
2014 Trip across the US
2015 Trip to Alaska
2015-16 Southwest Trip
2016 New England Trip
2016 - 17 Southwest Trip
2017 - 18 Trip to Pick Up a New Escape 21 Trailer & More
2018 - 19 Trip to Winnipeg & the Albuquerque Balloon Fiesta
2019 - 20 Trip to the Southwest
Other Trips
Wednesday, March 2, Gilbert Ray Campground, Tucson, AZ, Day 3 - 0 Miles, 4,577 Miles for the Trip
A warm night, although the furnace did come on around 6:00AM. Now that I have an electric hookup, I put the Micro-Air Easy Touch thermostat back in, was able to update the software, and am running it even though I have an electric heater to see if it quits in the middle of the night as it was doing before I pulled it. So far, so good - 2 nights without quiting. It certainly won't get a workout today. At 2:30 it is 80°F outside & 84°F in the trailer. I'm tempted to fire up the AC, but since I'm heading to another campsite for dinner, I'll just sit outside & read.
I've been using AT&T since I have the MIMO antennas connected to the AT&T cell modem, and checked the speed - 56.6Mbps down & 19Mbps up. Since it is unlimited, I won't be using Verizon, but did check it for speed - 34.4Mbps down and 23.8Mbps up. By the way, with the modem alone (no outside MIMO antennas, AT&T provided 8.9Mbps down & 14.7Mbps up. Shows how useful a pair of high gain outside antennas can be!
At 4:00 I grabbed dinnerware, my backpack chair and headed to the A section & some friends with Escape 19's. We chatted for a bit, then had a wonderful grilled chicken dinner.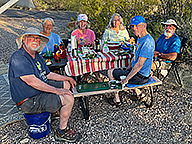 Our Chicken Dinner
Until Tomorrow -
---
This page is maintained by: vermilye@oswego.edu
Last Update: March 3, 2022