2021 - 2022 Trip To The Southwest
Day 135, Smuggler's Roost RV Park, Animas, NM
2011 Trip across the US
2012 Trip across the US
2014 Trip across the US
2015 Trip to Alaska
2015-16 Southwest Trip
2016 New England Trip
2016 - 17 Southwest Trip
2017 - 18 Trip to Pick Up a New Escape 21 Trailer & More
2018 - 19 Trip to Winnipeg & the Albuquerque Balloon Fiesta
2019 - 20 Trip to the Southwest
Other Trips
Friday, March 4, Smuggler's Roost RV Park, Animas, NM - 188.8 Miles, 4,765.8 Miles for the Trip
Another warm night. An annoying neighbor left their porch light on all night just outside the bed window, washing out my view of the stars.
After breakfast I packed up the trailer & left the park around 10:00. There were high wind predictions on a couple of the weather pages, but no warnings. I don't understand the warnings - while gusts of 45MPH were listed on the weather predictions, in Quartzsite I got warnings for winds that speed - none here in Tucson. Not too bad leaving Tucson, but the wing got worse as the drive to New Mexico went on. One section of I 10 in eastern AZ was bad enough with blowing sand to put lots of vehicles on the side of the road, and those of us that kept going were doing 20MPH. Not a "White out", but limited visibility, at least for doing the 75MPH limit. The low visibility section was only about a mile long before it cleared.
Smuggler's Roost is a new location for me. I usually try for Sunny Flats Forest Service campground in this area - it is about 20 miles away. So, I decided to try something different. I should have realized that it might be really different since they only charged $15.00 ($16.38 with fees & taxes) for a full hookup site. The RV Park is full hookup (50 amp only, so bring an adapter) strip of dirt with tight spots and no trees (or any shrubbery). No bathrooms, showers, picnic tables, etc. It & most of the RVs here look beat. It is level enough that I didn't need to unhook the truck or level the trailer. I did put down the stabilizers to ease (but not eliminate) the rocking in the wind. If the wind dies down I'll add a site photo. As to the town of Animas, it is a town of 237, and as far as I can see, one gas station & a pizza & wings place, and a closed grocery store - Bootheel's.
The RV park owner has a telescope set up for viewing - a bit too windy for tonight, but maybe over the weekend. Currently (at 3:00) the wind is even stronger than it was on the drive. While I didn't set up my weather station, I'd say the gusts are well over 50MPH. Until the gusts dropped for a bit, I couldn't open the truck door to get out & set up the trailer. At least it is coming from the direction that pushed the trailer door closed rather than blowing it off the hinges. I did jump out into the wind to copy down today's mileage & take a site photo around 5:00: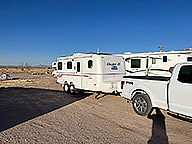 Site ?
They have WiFi, but I haven't asked for it - AT&T is 37.2Mbps down & 6.5Mbps up; Verizon 2Mbps down & 1.5Mbps up. I had little problems Facetiming Anne Healy to wish her a happy birthday.
Dinner could have been the second Chicken Teriyaki Shish Kabob from the package I opened yesterday, but the relatively light winds kept blowing out the grill flame when set on low when I cooked it last night; today it would blow the grill off the table (if there was a table).
Dinner was a microwaved Saffron Road Chicken Biryani with Basmati Rice bowl.
Until Tomorrow -
---
This page is maintained by: vermilye@oswego.edu
Last Update: March 5, 2022