2021 - 2022 Trip To The Southwest
Day 144, Fort Griffin State Historic Site, Albany, TX
2011 Trip across the US
2012 Trip across the US
2014 Trip across the US
2015 Trip to Alaska
2015-16 Southwest Trip
2016 New England Trip
2016 - 17 Southwest Trip
2017 - 18 Trip to Pick Up a New Escape 21 Trailer & More
2018 - 19 Trip to Winnipeg & the Albuquerque Balloon Fiesta
2019 - 20 Trip to the Southwest
Other Trips
Sunday, March 13, Fort Griffin State Historic Site, Albany, TX - 260.6 Miles, 5,629.6 Miles for the Trip
Another cool morning, although only down to 30°F and nothing froze other than my fingers getting the trailer ready to leave. I stopped at the Odessa Walmart to replace one of thee baby locks I use to keep a set of cabinet doors closed while driving - the washboard road I drove on by mistake broke the plastic lock I had on the doors. They come in pairs, but of course I left the second one at home, so now I have 2 spares. I also picked up some frozen meals and finally found a Marie Callender's large pot pie. Turkey rather than my favorite chicken with mushrooms, but at least I found one.
I hit Fort Griffin around 2:30. The campground is first come, but you need to check in at the park visitor center. I went to the visitor center before I hit the campground, so the attendant picked a site that he was fairly sure would be empty. He said if there was someone it the site, just pick another one & they would straighten out the paperwork. Nobody in site 2, which is a level site on gravel, water & electric for $15.00 per night. While labeled as a state park, I don't think it is part of the Texas State Park system - different reservation process & no daily per person charge. Reservations by phone, not the Texas State Park reservations system. When you reserve, they guarantee a space, but not a specific one. Different prices for tent, electric & water & full hookup sites.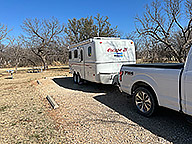 Site 2
After setting up, I headed for the campground shower. I rate the shower an "A". 2 hooks well out of the shower spray, a bench, standard showerhead with plenty of hot water, shower curtain & a good sized dressing area. All I could ask for is to have the showerhead 6" higher, and the building a bit warmer - the block construction holds in last night's cold even with an outside temperature of 71°F.
Afte my shower I made my usual Sunday phone calls - both my son Kyle & Anne & Guido went from green lawn to 6" of snow yesterday. I read that Tennessee got 6" - 8" of snow from the same storm - sure hope all that is gone by the time I hit the state.
Dinner was a turkey sandwich & a salad.
Until Tomorrow -
---
This page is maintained by: vermilye@oswego.edu
Last Update: March 14, 2022