2021 - 2022 Trip To The Southwest
Day 146, Lake Murray State Park, Ardmore, OK
2011 Trip across the US
2012 Trip across the US
2014 Trip across the US
2015 Trip to Alaska
2015-16 Southwest Trip
2016 New England Trip
2016 - 17 Southwest Trip
2017 - 18 Trip to Pick Up a New Escape 21 Trailer & More
2018 - 19 Trip to Winnipeg & the Albuquerque Balloon Fiesta
2019 - 20 Trip to the Southwest
Other Trips
Tuesday, March 15, Lake Murray State Park, Buzzards Roost Campground, Ardmore, OK - 200 Miles, 5829.6 Miles for the Trip
A relaxing drive on Texas state & farm roads, with one mile on I35. I heard on NPR this morning that Oklahoma had the cheapest gas in the country, so I drove past a Texas station selling it for $3.89. I hit OK & it was back up to $4.00. Luckily, a bit further down the road I found it for $3.79 & filled the tank. Of course, I managed to pull a Guido, and drove by a station at the entrance to the state park that was selling it for $3.69. I shouldn't whine - it is $4.55 at home in upstate NY.
I'm in Buzzards Roost Campground, site 16 (there are 8 campgrounds in the park), a back in concrete slab that has a steep entryway, but close to level once you get in. I needed 1/2" on one side & about the same on the tongue. Full hookup site for $41.33 per night - OK isn't cheap, and the price has gone up since my last visit in 2019 - the site next door was $28.00 per night! I'm here for 3 nights.
I did a quick check of internet speeds - AT&T is 38.9Mbps down & 4.3Mbps up, Verizon is 2.2Mbps down & 9.4Mbps up.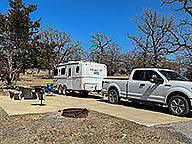 Buzzards Roost Site 16
After setting up I went for a walk around the loop. The bathrooms are on the road above the one I'm on. A long walk unless you cut through the tenting area. Individual rooms for showers & toilets.
They have a restaurant at the lodge. It is normally closed Sunday through Tuesday, but since we are currently experiencing Spring Break, they have opened it on Tuesdays.
I spent the rest of the afternoon sitting outside. A bunch of neat looking trees behind my site.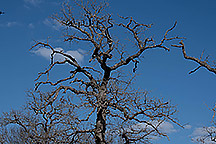 A Neat Tree
While I was sitting outside a Downey woodpecker (according to Photo Sleuth, although it was larger than the ones at home in Oswego - it was the size of one of our Hairy woodpeckers) banged away at a nearby tree. I took a couple of photos, as well as one of a couple of crows.
Not Quite A Murder of Crows
A Downy Woodpecker
So, I decided to head to the restaurant for dinner. I ordered one of my usuals - Chicken Fried Steak. Huge piece of steak, a bit salty for my taste, but a great meal. When the waitress brought the check it had the wrong ticket to sign - it was a different order & $10.00 less than my dinner. I pointed it out & my waitress & someone else banged away at the check out terminal for 5 minutes before she came back and asked me to sign the cheaper ticket. I guess they couldn't find a way to cancel the first charge slip. In any case, my $22.00 dinner was only $13.44. I did leave a big tip!
Until Tomorrow -
---
This page is maintained by: vermilye@oswego.edu
Last Update: March 16, 2022