2021 - 2022 Trip To The Southwest
Day 149, Aux Arc Park, COE, Ozark, AR
2011 Trip across the US
2012 Trip across the US
2014 Trip across the US
2015 Trip to Alaska
2015-16 Southwest Trip
2016 New England Trip
2016 - 17 Southwest Trip
2017 - 18 Trip to Pick Up a New Escape 21 Trailer & More
2018 - 19 Trip to Winnipeg & the Albuquerque Balloon Fiesta
2019 - 20 Trip to the Southwest
Other Trips
Friday , March 18, Aux Arc Park, COE, Ozark, AR - 291.3 Miles, 6,120.9 Miles for the Trip
After dinner last night I sat outside enjoying the 71°F cloudy evening. Then we got rain, light to heavy, thunder & lightning, even some hail, but no damaging wind. For a short time large hail that sounded like rocks bouncing off the trailer, but no apparent damage.
I got an early start (for me) and pulled out of the park at 9:00. Most of the trip was on US 70 & US 69, both mostly 4 lane roads with 70MPH speed limits, slowing down when they went through towns, and 60MPH on the 2 lane sections. There were passing sections on much of the 2 lane parts of US 70. I had a guy in front of me that suffered from narrow lane itis (I'm fairly sure I invented the term). He would slow down well below the speed limit in all the two lane sections, then speed up above it when ever a passing lane appeared. The last hour or so was on I 40. Very heavy traffic going west, but not too bad on my side of the road. Cold. It was 46°F when I packed up the trailer and it never got any warmer the entire trip. Mist and light drizzle most of the drive.
I'm in B3, a back in site on the River/Lake (it is the Arkansas river but this section is called Ozark Lake above the dam & Lake Dardanelle below it). The campground is above the dam. Water & electric on pavement with a gravel tent pad, picnic table, fire ring & a small table for a grill. $9.00 per night with the Senior 1/2 price Pass. The 30 amp receptacle is falling apart, but works.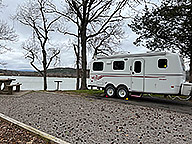 Site B3
I walked to the bathroom building at this end of the string of campsites (there is another one about a mile towards the entrance). Individual rooms, but designated men & women, each with a sink, toilet & shower. They are heated.
As I mentioned, it is still only 46°F outside. With the heavy clouds, it feels even colder. Not a good afternoon to sit outside. My weather app says it will be 69°F tomorrow & sunny, but I'm suspicious - it said it was going to hit 59°F here today.
Dinner was a Turkey pot pie.
Until Tomorrow -
---
This page is maintained by: vermilye@oswego.edu
Last Update: March 19, 2022