2021 - 2022 Trip To The Southwest
Day 158, Village Creek State Park, Wynne, AR
2011 Trip across the US
2012 Trip across the US
2014 Trip across the US
2015 Trip to Alaska
2015-16 Southwest Trip
2016 New England Trip
2016 - 17 Southwest Trip
2017 - 18 Trip to Pick Up a New Escape 21 Trailer & More
2018 - 19 Trip to Winnipeg & the Albuquerque Balloon Fiesta
2019 - 20 Trip to the Southwest
Other Trips
Sunday , March 27, Village Creek State Park, Wynne, AR - 126.7 Miles, 6,348.1 Miles for the Trip
I took my time packing up & getting out of Toad Suck since I only had to drive a bit over 120 miles. Most of the drive was on US 64 & US 67, roads that switched between 2 & 4 lanes, going through many small towns.
I'm in site 39, a back in on mixed asphalt & gravel that just fits the trailer. I had to park on the very edge of the site to be within 3" of the driver's side lift & 5" of tongue lift to level the trailer. The water is on the passenger side of the trailer with the water line running across the steps that go up to my picnic table. A water & electric site for $25.65 per night, although that is currently a guess since their computers are down & they can't determine if the price included any discounts. I'm here for 8 nights.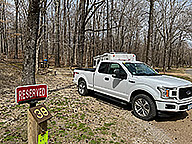 Site 39
This is another campground that I need to add to my list. Some of the sites have as many as 14 steps to get to your picnic table. Some are far from level.
No AT&T coverage and a very slow, but usable Verizon coverage. We will see how well internet radio works tonight when I attempt to listen to Hearts of Space on WXXI in Rochester, NY. By usable, an example is today's large version of the campground photo, a 385Kb jpg, it took over 2 minutes to upload to my site, and I had to put the low resolution small image of me campsite on my Blogger post - no matter how many times I tried, the large version wouldn't load. I did find WKNO 91.1 FM that is an NPR station (NPR for the Mid South) that I couldn't connect to the last time I was here, so I will be able to get my NPR fix.
By the way, if you go exploring on my site, you may run into some problems with some of the secure pages. As I mentioned a couple days ago, had some older pages that were unsecured, some with one SSL certificate, and others with a newer SLL certificate. The folks that maintain my website got rid of the old SLL certificate, but now some people are reporting that some pages now show a invalid certificate. Until I get home & will have a fast enough connection to reload the entire site, I don't think I can fix the problem. If you want to see a page with an invalid certificate you will need to accept the page anyway, or remove the "s" from the https part of the URL and connect to the unsecure version of the page. Aren't computers wonderful!
Around 4:00 I went for a walk around the figure 8 loop of the campground. Many available sites, with a few that have reservation tags. Right now there are only 3 other RVs in the campground other than me. Since I'm here for a week, I set up the hummingbird feeder. I think it may still be too cold for them, but we will see.
Dinner was a grilled cheese & peanut butter sandwich & Bush Brown Sugar & Hickory beans. A little after dinner a large group of bicyclists arrived and filled half the lower loop of the campground. They are from all over the Midwest & northern Arkansas.
Until Next Time -
---
This page is maintained by: vermilye@oswego.edu
Last Update: March 28, 2022