2021 - 2022 Trip To The Southwest
Day 179, Cades Cove, Great Smoky Mountain National Park, TN.
2011 Trip across the US
2012 Trip across the US
2014 Trip across the US
2015 Trip to Alaska
2015-16 Southwest Trip
2016 New England Trip
2016 - 17 Southwest Trip
2017 - 18 Trip to Pick Up a New Escape 21 Trailer & More
2018 - 19 Trip to Winnipeg & the Albuquerque Balloon Fiesta
2019 - 20 Trip to the Southwest
Other Trips
Sunday, April 17, Cades Cove, Great Smoky Mountain National Park, TN - 143.4 Miles, 6,924.8 Miles for the Trip
I drove the rest of TN 30; not much different than the eastern side of Falls Creek Falls, lots of switchbacks & hills. Eventually reached US 127 to I 40 for about 40 miles, then on to US 321 that goes to Townsend & the park. I made a stop at the Maryville Krogers, and their Walgreens to pick up a bunch of prescriptions. I arrived at Cades Cove Campground around 3:00, having gained an hour crossing into the eastern time zone.
I'm in site B28, a dry site with a mix of paved & gravel, a fire pit & picnic table for $12.50 per night with the 1/2 off senior discount. The site also has a large tent pad. I'll have to get used to living on the batteries & solar for the next 4 days, although the predictions were for cold, cloudy weather. I can't update them - no AT&T or Verizon coverage here at Cades Cove. There is a public WiFi, but unless I dig out my Ubiquiti WiFi Amplifying system, it is too far away to be usable, and, judging by the number of folks sitting around the parking area for the store staring at their phones, probably overloaded to the point of not being usable. There are a couple of weak FM stations - WUOT, 91.9 with a mixed format between news & music, and a classical station, WSMC at 90.5, so I can get my NPR fix. Still, no blogs, journals, or posting of my web pages until I drive 7 miles of twisty, narrow road to Townsend. Of course I do have the option of XM Radio, and, while I don't appreciate the amount of compression they use to squeeze more stations on their limited bandwidth, I have been listening to their classical channel quite a bit on this trip.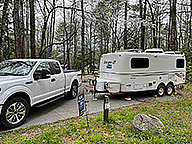 Site B28
There is a bathroom with cold water (and no showers) one loop below mine - a short walk. Unfortunately, B28 is in the generator section of the campground. All the sites large enough for the 21 & truck in the no generators sections were already booked when I went looking for a site in December. A double unfortunate - I walked around the loops in the B section, and the only ones running generators are my neighbors, at least one of which is an open frame construction type. Cheap, but loud! Oh well, at least they can't run all night, only 8:00AM to 8:00PM. There is an Oliver Elite (the single axle version of their trailer) across from me and a Casita a few sites down the row.
After almost setting up in site B29 (their numbering is "interesting") I squeezed into B28. I walked to the ranger station to register - they didn't have a ticket for me, but eventually found the reservation.
Dinner was a Boston Market Chicken Parmesan cooked in the oven.
Until the Next Internet Connection -
---
This page is maintained by: vermilye@oswego.edu
Last Update: April 18, 2022