2021 - 2022 Trip To The Southwest
Day 183, Townsend KOA, Townsend, TN
2011 Trip across the US
2012 Trip across the US
2014 Trip across the US
2015 Trip to Alaska
2015-16 Southwest Trip
2016 New England Trip
2016 - 17 Southwest Trip
2017 - 18 Trip to Pick Up a New Escape 21 Trailer & More
2018 - 19 Trip to Winnipeg & the Albuquerque Balloon Fiesta
2019 - 20 Trip to the Southwest
Other Trips
Thursday, April 21,Townsend KOA, Townsend, TN - 9.4 Miles, 6,934.28 Miles for the Trip
Last night was warm at 52°F; the furnace never ran. As usual, I did my eye drops at 7:00, went back to sleep, and woke up to what sounded like thousands of generators at 8:00. Actually, only around 10 of them, but still annoying. I stopped at the store for coffee during my morning walk. I spent most of the morning after breakfast reading. I finished Aaron Elkin's Dead Men's Hearts and a short story by Dean Koontz - Light Has Weight But Darkness Does Not. Started 16 Souls by John J. Nance.
A short move today. I arrived at the Townsend KOA around noon, and backed into site 87, a full hookup site on gravel that has different weekday / weekend prices. I got a discount for being with the Egg camping group. They took $48.57 off the $291.20 total for the 4 nights for an average price of $60.66 per night. No one ever accused KOAs of being inexpensive!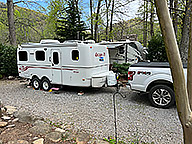 Site 87
I got a rash of phone voice mails, text messages, and 250 emails, all for being away from the internet for just 4 days.
After wandering around the campground stopping to say hello to those already here, I headed back to the trailer to deal with the email & text & phone messages. I put out the hummingbird feeder - it might be too early for any takers, but the days are going to be in the 80's with 50°+ nighttime temperatures, so maybe there will be a bird or two.
The rest of the afternoon was spent sitting outside waiting for the Guidos to arrive.
The Guidos got stuck in traffic for the last 24 miles or so, but pulled in around 4:00. We chatted for a bit, then headed to Riverstone restaurant next door to the campground for dinner.
I had their country fried steak smothered in brown gravy and onions. I know brown gravy is totally wrong for country fried steak, but somehow it works, at least here. Don had a open roast beef sandwich and Anne had a fried shrimp basket. Huge servings & my steak was tender enough to be editable, something that about half the ones I ordered out west were not.
Until Tomorrow -
---
This page is maintained by: vermilye@oswego.edu
Last Update: April 22, 2022