2022 - 2023 Trip To The Southwest
Day 9 - Creekside Campground, Edinburg, VA
2011 Trip across the US
2012 Trip across the US
2014 Trip across the US
2015 Trip to Alaska
2015-16 Southwest Trip
2016 New England Trip
2016 - 17 Southwest Trip
2017 - 18 Trip to Pick Up a New Escape 21 Trailer & More
2018 - 19 Trip to Winnipeg & the Albuquerque Balloon Fiesta
2019 - 20 Trip to the Southwest
2021 - 22 Trip to the Southwest
October 31, 2022, Creekside Campground, Edinburg, VA - 241.4 Miles, 957.8 Miles for the Trip
Happy Halloween!
A good night's sleep - I still decided that I'd head back to Oswego, particularly since I have already canceled many reservations. I took my time packing up & left the campground around 10:00. Light to medium heavy rain the entire trip.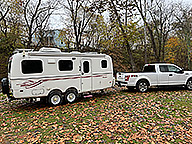 Site 29, Creekside Campground
I arrived at Creekside a little after 2:00 and took the same site (29) that I had on the way down to the rally. Water & electric for $36.86. The rain was light while I hooked up, but too much to make a walk around the campground pleasant. I spent most of the afternoon sitting in the trailer reading both on line & my Kindle. If you see missing n's or s's, blame it on my keyboard. It appears to be having some problems that a blast of air hasn't solved. Spell checker catches most of the errors as well as a read through before posting, but is is amazing how much can be missed editing your own writing.
Dinner was a Saffron Road Chicken Biryani meal.
Until Tomorrow -
---
This page is maintained by: vermilye@oswego.edu
Last Update: November 1, 2022