2022 - 2023 Trip To The Southwest
Day 11 - Home, Oswego, NY
2011 Trip across the US
2012 Trip across the US
2014 Trip across the US
2015 Trip to Alaska
2015-16 Southwest Trip
2016 New England Trip
2016 - 17 Southwest Trip
2017 - 18 Trip to Pick Up a New Escape 21 Trailer & More
2018 - 19 Trip to Winnipeg & the Albuquerque Balloon Fiesta
2019 - 20 Trip to the Southwest
2021 - 22 Trip to the Southwest
Previous
Next
November 2, 2022, Home, Oswego, NY- 274.8 Miles, 1408.7 Miles for the Trip
I left Jonestown around 9:30, and arrived in Oswego at 2:30. Not a bad drive even though it was longer than usual. The traffic was good with no stop & go even at the single lane sections.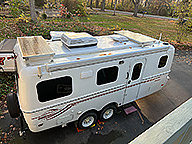 Home
My AT&T phone is back in action. Not sure what was wrong with it, although I hope it was a dead battery. It was on the wireless charger, but just to be sure I plugged it into a standard phone charger and an hour later it was able to do a reboot. I had already tried restarting it 15 times, so either I have an intermittent problem or the wireless charger didn't work. Since it usually works fine, and the phone has never died overnight, who knows. In any case, it is good to have all my apps back.
When I arrived in Oswego, my brother Dave had just dragged the leaf grinder from the garden to the driveway. Since it hasn't been run in over 20 years, the first thing we need to do is stop at Harbor Freight tomorrow for a new engine. We tried, but the one on the grinder is dead. We loaded it in the truck & unloaded the stuff that had to come out of the trailer.
After that it was off to Price Chopper for dinner & beer. Dave will be staying for a few days since he is temporarily being kicked out of the house he is staying in. He is in the middle of moving from Nantucket Island to the Catskills, living with a friend until the house he is purchasing closes.
Overall, an unsuccessful trip, at least to the Southwest. I did have a good time for the most part at the Hungry Mother, and, of course, after canceling all my reservations for the trip, feel better, but I still think I'll be more comfortable at home, at least until I get my stomach problems under control. So, it is time to make the adjustments for a winter in Oswego. I did that in 2020, and since it was one of the milder winters in recent times, I survived it. Let's hope that this winter is another comfortable one.
I don't have anything on the books until the Spring Fling in May, although if there is a mild spring I might be able to do a trip to the south before that.
Until The Next Trip -
Previous
Next
---
This page is maintained by: vermilye@oswego.edu
Last Update: January 28, 2023