2021 - 2022 Trip To The Southwest
Day 2, Jonestown KOA, Jonestown, PA
2011 Trip across the US
2012 Trip across the US
2014 Trip across the US
2015 Trip to Alaska
2015-16 Southwest Trip
2016 New England Trip
2016 - 17 Southwest Trip
2017 - 18 Trip to Pick Up a New Escape 21 Trailer & More
2018 - 19 Trip to Winnipeg & the Albuquerque Balloon Fiesta
2019 - 20 Trip to the Southwest
Friday, October 22, 2021 - Jonestown KOA, Jonestown, PA - 164.1 Miles, 292.4 Miles for the Trip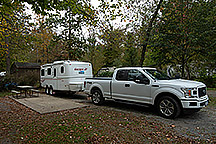 Site 15
Dinner last night, by the way was veal cutlet. Only fair, but the Greek salad was excellent. As I mentioned, after dinner we headed to the Binghamton University campus for my first live theatre performance in 2 years - Triptych: An Experience in Three Acts. An unusual show program - not printed, but by photographing a QR code, you get a link to the program as a web page. The type was far too small to be practical on a cell phone & it was easy to accidentally hit a bunch of ads. While I prefer paper programs, it does solve some printing costs & clean up after the show. It was great to see live theatre, although not the most exciting theatre I've seen.
Back to today:
Another usual stop, although I'm not sure for how long it will be usual. While KOAs are predictable, my back in full hookup site is $74.10 per night & they have a 2 night minimum stay. It is an almost level site that only required lifting the from end of the trailer a bit; not enough to require unhooking, and it has a fire pit (that I won't use) a concrete slab & a picnic table. That said, I don't need the sewer connection, and $74.10 is a bit steep! The Jonestown AOK Campground , which looks like it was a former KOA, looks to be a good substitute at $45.00 per night. I'll try that next time I'm heading by. They have a sign at the entrance at the KOA that they are full. Both the full campground & 2 day minimum are probably do to the "2nd weekend of Halloween" event they are holding. Lots of decorated trailers!
There is a bit of color in the park, and lots more at the higher elevations in Pennsylvania, but in general, Fall seems to be running behind 2019.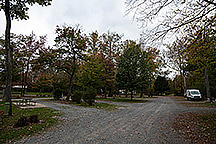 Not Much Color at the KOA
After setting up I took a walk around the campground, although less than my usual 2 miles. The weather is OK for late October at 61°F. Lots of clouds mixing with some sun. I did hit light rain on the drive down.
Dinner was my last frozen lasagna. I found it in the bottom of the home freezer. Since the last time I made lasagna was over 3 years ago I was concerned that it would have dried out, but since it was vacuum packed, it held up well. The last time I was here they had a 1/4 broasted chicken with macaroni salad & French fries delivered to my site, but all chicken is off the menu because of high prices. Somehow I wouldn't think that a KOA would understand high prices!
Until Tomorrow -
---
This page is maintained by: vermilye@oswego.edu
Last Update: October 23, 2021