2021 - 2022 Trip To The Southwest
Day 11, Melton Hill Dam TVA Campground, Lenoir City, TN
2011 Trip across the US
2012 Trip across the US
2014 Trip across the US
2015 Trip to Alaska
2015-16 Southwest Trip
2016 New England Trip
2016 - 17 Southwest Trip
2017 - 18 Trip to Pick Up a New Escape 21 Trailer & More
2018 - 19 Trip to Winnipeg & the Albuquerque Balloon Fiesta
2019 - 20 Trip to the Southwest
Sunday, October 31, 2021 - Melton Hill Dam TVA Campground, Lenoir City, TN - 187 Miles, 924.0 Miles for the Trip
Happy Halloween!
The first night in awhile that I didn't listen to the pitter patter of raindrops on the roof. Still very damp with a heavy mist as I packed up the trailer.
The Walmart heater did eventually start cycling although the range was much wider than that with the Pelonis. The Pelonis holds the set temperature within a degree. The Walmart cycles through 7-8 degrees. Still, it will do until I fix the Pelonis.
I stopped by to say goodbye to Walt and thank him for the rally & coffee, and if all goes as planned, we will see each other again in Quartzsite in February.
Rain most of the drive to Melton Hill Dam, although it started to clear after leaving Knoxville. Clouds, but no rain & 59°F this afternoon here at Melton Dam.
The Melton Dam TVA Campground overlooks the lake behind the dam. It is built on a hill with three tiers of campsites. Many have the picnic tables on different levels from the trailer pad, and a few are tent sites only. Some have long steep backins to get to the flat section near the hookups. I'm in site 32, a back in on gravel with one step down to the picnic table. Deep enough that I can leave the truck connected. I did have to use the Anderson levelers to raise the driver's side of the trailer 3", but it is level front to back. Water & electric for two nights at $22.50 per night. The front of the site is steep enough (you can see in the photo) that I can't lower my tailgate all the way, but I can live with that.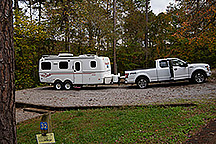 Site 32
I walked around the campground and took notes on which sites were practical for my trailer, and added the information, along with a photo of the campground map to my Campground Sites notes page. That makes 2 so far. I didn't do one for Hungry Mother or the Jonestown KOA because all the sites are fairly level and fit my trailer.
I checked both Verizon & AT&T and while both have data connections, Verizon is slow, even with MiMo outside antennas. When I checked AT&T without the added antennas it was about the same as Verizon with them. I added the antennas and AT&T ended up at 43Mbps down & 1.6Mbps up, compared to 11Mbps down & 0Mbps up without the added outside antennas. My AT&T iPhone 10 shows no connection except over WiFi, while the Verizon iPhone 7 shows 2 bars. Cell phone over WiFi (which ended up connected to the AT&T cell modem) gave me a poor connection when I called my brother.
There is a NPR station, WUOT that has a good signal at the campground.
Dinner was a Boston Market Chicken Parmesan Dinner & a salad.
Until Tomorrow -
---
This page is maintained by: vermilye@oswego.edu
Last Update: November 1, 2021