2021 - 2022 Trip To The Southwest
Day 19, Lake Somerville State Park, Somerville, TX
2011 Trip across the US
2012 Trip across the US
2014 Trip across the US
2015 Trip to Alaska
2015-16 Southwest Trip
2016 New England Trip
2016 - 17 Southwest Trip
2017 - 18 Trip to Pick Up a New Escape 21 Trailer & More
2018 - 19 Trip to Winnipeg & the Albuquerque Balloon Fiesta
2019 - 20 Trip to the Southwest
Monday, November 8, 2021 - Lake Somerville State Park, Somerville, TX - 287.1 Miles, 2,056.8 Miles for the Trip
I don't often find campgrounds that are too "sketchy" for me, although I have passed up a few. Anacoco Lake Spillway RV Park, Leesville, LA is one I won't be back to. It isn't that the folks there are not friendly, but it is really a full time living trailer park. Much better advertised than the reality.
In any case, I headed out around 9:30 without a morning walk. The last time I went from the Leesville area to Lake Somerville, I went through College Station. I decided to take one of the more southern routes that took me through the town of Somerville where I had to pick up some prescriptions. The town is only 20 miles from the campground, but stopping on the way would save me unhooking. Big mistake - a much longer drive although it was listed as shorter time. It would be if I run on the interstates at 75MPH. In any case, I did pick up my scripts.
Speaking of 75MPH, that is how you tell you are in Texas. The two lane LA 8 has a 55MPH speed limit. As you cross the border into Texas, it jumps to 75MPH.Same road although it is called TX 6.
All the sites in the campground are marked as reserved. According to a sign at the entrance, you must reserve your site on line. You still have to stop at the office and pick up a tag for your windshield. They have a night deposit, but if they allow someone to come in after the office closes there is no way to tell what sites are open. I'm here in site 36 for two nights - a paved site with a picnic table on a concrete pad & a fire ring. There is a tent area. Water & electric for $20.00 per night plus a per person park use fee of $4.00 per night. Not too many campgrounds charge per person per night, but Texas does at all their state parks. The park is mostly empty, although there is no way to tell if there will be arrivals this evening. My spot from 2019 (site 38) was not available when I made the reservation in January - there is a class A in it.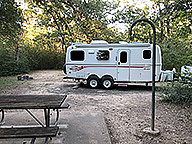 Site 36
After hooking up the trailer I took a load of trash to the dumpsters (I couldn't find them at Anacoco Lake). There is a platform on the light pole at the dumpsters / dump station for a bird & a vulture of some kind posed for a photo.

The Vulture
A very warm day. it hit 78°F on the drive here, and it is still 70°F at 6:00. Feels great to be walking around in a "T" shirt!
Very slow internet on both AT&T & Verizon. AT&T 2.6Mbps down & .8Mbps up, while Verizon was 1.8Mbps down & 1.5Mbps up. Both were using outside MIMO antennas. There are 2 FM radio stations, the requisite country & western, and a public station that is neither news or classical. When I first found it they were playing oldies. I'm now listening to KBAQ on the internet (using Verizon on my iPhone, which is really unlimited, at least they have never slowed it down enough that internet radio didn't work).
They call themselves KBACH, which, of course is 5 letters & as far as I know the FCC only allows 4, but it is Arizona. In any case, it is a 24 hour classical station that is the sister station of KJZZ, Phoenix's news & jazz NPR station. I'm a sustaining member of them since I listen to one or the other quite a bit. I also contribute to WXXI in Rochester, and my home town NPR station - WRVO. My philosophy is if you listen to a public radio station a lot, you should contribute.
After my walk I headed for the showers. I do remember that I rated them at a C last time I was here, and there has been no improvement. The "hooks" in the drying room are 3 10 penny nails pounded into a board, a low volume, fine spray shower head that cools the lukewarm water to cold by the time it hits your lower body. I suspect that if I put my medium volume shower head in place of the one they have the water would be warm enough, but they have a set screw locking the threads of the head. I suppose I could carry the proper sized allen wrench, but my self imposed rule is to only replace showerheads if they are hand tightened (and, of course, don't work). Still, all in all, it was far better than yesterday's option.
Dinner was a Saffron Road Chicken Biryani microwave meal. Very good, although I may be up at midnight downing a shot of Mylanta.
Until Tomorrow -
---
This page is maintained by: vermilye@oswego.edu
Last Update: November 9, 2021