2021 - 2022 Trip To The Southwest
Day 23, Fort Stockton RV Park, Ft Stockton, TX
2011 Trip across the US
2012 Trip across the US
2014 Trip across the US
2015 Trip to Alaska
2015-16 Southwest Trip
2016 New England Trip
2016 - 17 Southwest Trip
2017 - 18 Trip to Pick Up a New Escape 21 Trailer & More
2018 - 19 Trip to Winnipeg & the Albuquerque Balloon Fiesta
2019 - 20 Trip to the Southwest
Friday, November 12, 2021 -Fort Stockton RV Park, Fort Stockton, TX - 199.7 Miles, 2,490.6 Miles for the Trip
I didn't mention it yesterday, but the altitude gain of close to 2000' did improve night temperatures. In the high 30's both nights. I got a fairly (for me) early start, leaving Pecan Valley around 9:15. I do recommend the park for a night or two. Not a lot to do in Junction, TX, but a relaxing location with shade at most sites. No laundry & the bathrooms could use an update, but they were clean & somewhat heated.
The entire trip today was on I 10. Rolling hills with many multi mile straight sections.
I arrived at the Fort Stockton Walmart to pick up some supplies - while I'm here for 2 days, the stop after that is close to a week at the Rio Grande Village Campground at Big Bend National Park, and there isn't anything in the way of shopping (or cell service, FM radio, etc) within 60 miles of the campground. They do have WiFi available at the campground store which has a small selection of food, as well as showers, fuel & propane. The campground does not have hookups, although there is a parking lot at the store that does (and is usually fully booked).
I'm in site 21, a full hookup close to level site (I had to make both a 1 1/2" inch adjustment both side to side & front to back) on gravel & very dried up grass. The site has a picnic table. I had the trailer leveled, and everything but the electric hooked up. Shouldn't have saved the electric for last - I flipped on the breaker & the handle moved, but the guts didn't. Went back to the office & they sent a staff member over who changed out the 30 amp breaker. Glad I didn't have to move to another site.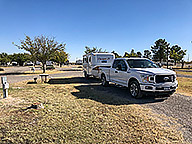 Site 21
Dinner was at the Roadrunner Cafe - a restaurant here at the park. A somewhat limited menu mostly deep fried or grilled, and a fairly long (45 minute) wait. I had the popcorn shrimp & catfish, served with French fries & hush puppies. OK ,but nothing special. They also do breakfast, so I may wander over in the morning.
Until Tomorrow -
---
This page is maintained by: vermilye@oswego.edu
Last Update: November 13, 2021