2021 - 2022 Trip To The Southwest
Day 24, Fort Stockton RV Park, Ft Stockton, TX
2011 Trip across the US
2012 Trip across the US
2014 Trip across the US
2015 Trip to Alaska
2015-16 Southwest Trip
2016 New England Trip
2016 - 17 Southwest Trip
2017 - 18 Trip to Pick Up a New Escape 21 Trailer & More
2018 - 19 Trip to Winnipeg & the Albuquerque Balloon Fiesta
2019 - 20 Trip to the Southwest
Saturday, November 13, 2021 -Fort Stockton RV Park, Fort Stockton, TX, Day 2 - 0 Miles, 2,490.6 Miles for the Trip
I went to breakfast at the restaurant & had biscuits & gravy. After that I went for a walk around the park. The place is large, with many sites set up with electric meters for long stays. The area I'm in emptied out over the morning. I read - current book is the last of The Way series by Greg Bear - Legacy. I checked my email and got an update from National Grid; good news? - instead of my bill going up $50.00 per month, it will be only $36.00 per month.
I checked data speeds for both Verizon & AT&T - Verizon 48.3Mbps down & 26.6Mbps up, while AT&T is showing 25Mbps down & 5.9Mbps up.
I headed to the showers around 3:00. 82°F outside, but I didn't fire up the AC - sticking with the fan. Back to the showers - they have two sets, a couple in the bathroom at the office building, and at the other end of the park, a building with 6 individual rooms, each complete with toilet, sink & shower. Large rooms with large showers. A bench in the room and shelves in the shower. All in all, the best showers of the trip. The only thing missing is a floor mat in front of the shower. Rated A.
Texas, at least Fort Stockton favors large class A's, each towing a Jeep. While there is are a few smaller RVs, including even one smaller than mine (a Little Guy Max), most of the overnight sites are filled with huge diesel pushers.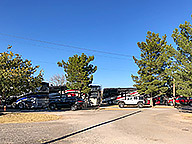 The Diesel Pushers
Dinner was another trip to the restaurant, this time to try the country fried steak again. When I had it in 2019 it was tough, but it is one of my favorites, so I tried it again. Unfortunately, it was just as tough as the last time. I've had country fried steak all over the southwest (and southeast), and about half the time they are just short of inedibly tough. I know that the cube steak cut of meat they use can be tough, but I've also had it that was not. Oh well, I'll keep trying.
Since I'm heading to Big Bend National Park in the morning, my usual sign off "Until Tomorrow" won't work , so
Until The Next Data Connection -
---
This page is maintained by: vermilye@oswego.edu
Last Update: November 14, 2021