2021 - 2022 Trip To The Southwest
Day 30, Tumble Inn, Marfa, TX
2011 Trip across the US
2012 Trip across the US
2014 Trip across the US
2015 Trip to Alaska
2015-16 Southwest Trip
2016 New England Trip
2016 - 17 Southwest Trip
2017 - 18 Trip to Pick Up a New Escape 21 Trailer & More
2018 - 19 Trip to Winnipeg & the Albuquerque Balloon Fiesta
2019 - 20 Trip to the Southwest
Friday, November 19, 2021 - Tumble Inn RV Park, Marfa, TX - 148.5 Miles,2,789.8 Miles for the Trip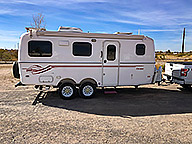 Site 6
Even though today is a "move" day, I did my walk around the campground. I only have to go 150 miles to get to Marfa, so I had plenty of time. Lots of folks heading out this morning. All of the drive once I was out of Big Bend was 75MPH 2 lane roads. I did 60MPH. It didn't improve my fuel mileage compared to 65MPH - today was 11.9MPG. I pulled into the Tumble Inn RV Park around 1:30. A fairly primitive campground with no host. You go in a small trailer & find your reservation & site listed on a white board, fill out the paperwork & head for your site. Unlisted sites are available as first come. I'm in a pull through on dirt that is full hook up for $28.00 per night with a veteran's discount. The campground is between an active railroad & US 90, both providing background noise.
After setting up the trailer I headed to the Porter Market for a few supplies. Still looking for Alaskan Amber beer but no luck so far. I did pick up a microwavable Chili Relleno dinner, which I'll try tonight. Back at the trailer I headed for the showers. Many would give it a poor rating because it is somewhat dark and unfinished (no tile, etc). I give it an A because it has everything I want. A large shower & drying room with a strong spray shower head, shower curtain & a lip on the floor that keeps the shower water from running under the shower curtain. Shelves in the shower for your stuff, a large bench in the drying room as well as hooks for your clothes & towel. Clean except for a collection of half filled shampoo bottles, even a bathmat. The bathroom appears to be heated, although it isn't cold enough at 4:00 to tell.
After that I caught up on some of the RV forums I read as well as 300 email messages that stacked up while I was away from the internet.
I called Camping World of El Paso (which is actually in Anthony) and they have the power tongue jack I want, so I'll stop by on my way to Pancho Villa State Park on Sunday. That makes it a long day at over 325 miles, but during the long stay at Pancho Villa I should be able to install it.
Dinner was the Chili Relleno - it was better than I expected, although not anywhere as nice as that at Chopes in La Mesa, NM, a restaurant I will not be able to stop at since it is closed Sunday & Monday & I'll be going by it on Sunday. They make the best Chili Relleno I've ever had.
Until Tomorrow -
---
This page is maintained by: vermilye@oswego.edu
Last Update: November 20, 2021