2021 - 2022 Trip To The Southwest
Day 63, La Posa West LTVA, Quartzsite, AZ, Day 14
2011 Trip across the US
2012 Trip across the US
2014 Trip across the US
2015 Trip to Alaska
2015-16 Southwest Trip
2016 New England Trip
2016 - 17 Southwest Trip
2017 - 18 Trip to Pick Up a New Escape 21 Trailer & More
2018 - 19 Trip to Winnipeg & the Albuquerque Balloon Fiesta
2019 - 20 Trip to the Southwest
Wednesday, December 22, 2021, La Posa West LTVA, Quartzsite, AZ, Day 14 - 0 Miles, 3,758.5 Miles for the Trip
My weather app said it would be partially cloudy all week, and rain on the weekend. So far it is wrong - while there is a cloud or two in the sky this morning, mostly blue skies.
I did my usual walk for coffee this morning - $1.20 today. I even get different prices on different days from the same clerk.
I have a new neighbor. A Class B van is in the space that the Class A left a week ago. I haven't seen the owners, but it looks like they are set up for awhile - ground cloth, tables, etc.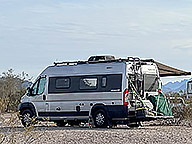 The Class B Van
After breakfast I decided it was time to clean up the trailer. When I'm on the road, moving every couple of days, things get put away. I tend to get sloppy when I'm in one place for more than a couple of days. Things get left in corners, unused seats, counter tops, etc. While one of the larger Escapes, the 21C is still a very small house, and one needs to put stuff away to make it livable. Another problem specific to Quartzsite (and most of the southwest desert) is dust. Even with the windows closed, fine dust seems to get over everything. So, cleaning day!
I also dug out the weather station. The transmitter sits on a painter's pole attached to the front of the trailer. Gives me wind speed & direction, and rainfall, along with the usual temperature & humility, barometer, etc.
I now have another new neighbor. A good sized 5th Wheel right across the street (if there was a street). I hope there will be room for the folks from California (if they come this year).
The 5th Wheel
I sat outside & read for a bit, then dragged out the camera for some hummingbird photos. My iBird Photo Sleuth tells me this is a Costa's Hummingbird. There are a couple of different ones that feed, but I think all these photos are of the same one.
Dinner was a Beyond Beef Cheeseburger & applesauce.
Until Tomorrow -
---
This page is maintained by: vermilye@oswego.edu
Last Update: December 27, 2021