2021 - 2022 Trip To The Southwest
Day 64, La Posa West LTVA, Quartzsite, AZ, Day 15
2011 Trip across the US
2012 Trip across the US
2014 Trip across the US
2015 Trip to Alaska
2015-16 Southwest Trip
2016 New England Trip
2016 - 17 Southwest Trip
2017 - 18 Trip to Pick Up a New Escape 21 Trailer & More
2018 - 19 Trip to Winnipeg & the Albuquerque Balloon Fiesta
2019 - 20 Trip to the Southwest
Thursday, December 23, 2021, La Posa West LTVA, Quartzsite, AZ, Day 15 - 0 Miles, 3,758.5 Miles for the Trip
A warm night; 52°F was the low, and it hit 75°F this afternoon.
We haven't had a spectacular Quartzsite sunset since I've been here this year, but there was a little color last night. Strangely, it was in the southeast, not where the sun went down. In any case, a photo: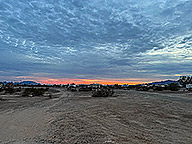 Minor Quartzsite Sunset
After breakfast I changed the sheets, loaded up the laundry basket and headed to the laundromat. I wasted $5.00 spending $10.00 for a shower rather than going to the barbershop, but it was convenient to shower while the clothes were in the dryer. I stopped at the Coyote Grocery Store on the way home to pick up a chuck roast for Saturday, and chicken thighs & potato salad for tonight & tomorrow night.
Back at the trailer I sat outside for awhile, but while it was warm enough, the wind was a PIA. Gusts hit 18MPH, and even blew a couple of the unglued joints of the portable solar panel frame apart. If the problem persists, I'll either have to screw or pin the joints, but I'd rather not.
Dinner was a grilled chicken thigh, potato salad & applesauce.
Until Tomorrow -
---
This page is maintained by: vermilye@oswego.edu
Last Update: December 24, 2021