2021 - 2022 Trip To The Southwest
Day 95, La Posa West LTVA, Quartzsite, AZ, Day 44
2011 Trip across the US
2012 Trip across the US
2014 Trip across the US
2015 Trip to Alaska
2015-16 Southwest Trip
2016 New England Trip
2016 - 17 Southwest Trip
2017 - 18 Trip to Pick Up a New Escape 21 Trailer & More
2018 - 19 Trip to Winnipeg & the Albuquerque Balloon Fiesta
2019 - 20 Trip to the Southwest
Other Trips
Sunday, January 23, 2022, La Posa West LTVA, Quartzsite, AZ, Day 44 - 0 Miles, 3,765.5 Miles for the Trip
Another beautiful day in Quartzsite. A bit windy, but 68°F. My closest next door neighbor pulled out late this morning. I stopped by the "Van Mass" across the wash from my area & there are even more than when I took the last photo. We only have one of the Travatos left here.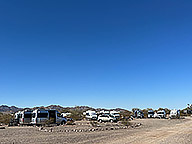 The Vans
I sat outside & read for most of the day. I'm currently reading a series by C. J. Adrien - The Saga of Hastings The Avenger. Three books so far; current is Kings of the Sea. A fictionalized story of some of the real Vikings. Interesting stuff.
Lots of folks walking by on their way to the Big Tent Show, but not as many ATVs parked all over the place as usual. I thought about heading to the laundromat, but will probably go tomorrow.
A bit of excitement - around 3:00 a group of 4 RVs (3 good sized Class As and a tow behind) decided to set up in an area on the north side of the wash next to us and one of the local people decided the area was too small for them. Yelling ensued, and eventually, they pulled out. One of the group on a scouting mission stopped by and asked if it was a problem for them to set up on the edge of the area behind my trailer. I told them as long as they didn't block my solar panels & stayed the required 15' from me I wouldn't complain. I did mention that the area was used as a road, and was fairly sloped, and I guess they eventually decided to look elsewhere - I watched them pull through & out of our section of La Posa West.
Dinner was a Impossible Burger, mac & Cheese & peaches.
Until Tomorrow -
---
This page is maintained by: vermilye@oswego.edu
Last Update: January 24, 2022