2021 - 2022 Trip To The Southwest
Day 96, La Posa West LTVA, Quartzsite, AZ, Day 45
2011 Trip across the US
2012 Trip across the US
2014 Trip across the US
2015 Trip to Alaska
2015-16 Southwest Trip
2016 New England Trip
2016 - 17 Southwest Trip
2017 - 18 Trip to Pick Up a New Escape 21 Trailer & More
2018 - 19 Trip to Winnipeg & the Albuquerque Balloon Fiesta
2019 - 20 Trip to the Southwest
Other Trips
Monday, January 24, 2022, La Posa West LTVA, Quartzsite, AZ, Day 45 - 0 Miles, 3,765.5 Miles for the Trip
A bit cooler overnight at 39°F this morning, but with the cloudless day, it warmed up quickly. Verizon was good to me last night - I was able to listen to the entire hour of one of my favorites, Hearts of Space on WXXI in Rochester, NY without any dropouts. Strange music for a classical station, but they do both Hearts of Space and 2 days of Echoes on the weekends.
During my trip to the dumpster las night I saw an unusual Airstream - a Basecamp 16. I believe they have stopped making them - they are advertising the Basecamp 20 & 20X, both single axle trailers, but bigger.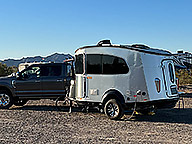 Airstream Basecamp 16
I changed the sheets on the bed & decided it would be a good day to do laundry since everyone would be at the Big Tent. Well, the laundromat had about the usual sized crowd with no wait for washers or dryers, but getting there was "interesting". Traffic was backed up from well south of the entrance to the North & West LTVAs to the traffic light on Kuehn street (well over a mile). That was around 11:00AM. Not so bad on the way back around 1:00.
After putting away the laundry I sat around reading. The convoy from California didn't come back, and on my walk to the dumpster I didn't see them anywhere in La Posa West. If they were smart, they headed to either of the two southern LTVAs - much more room, although a bit of a walk to the Big Tent. The crowd in the Class B Vans all disappeared this morning.
I spent part of the afternoon chatting with the folks in the 5th wheel from Missouri. We sat around a campfire (even though it was in the 70's and bright sun) talking about life.
Dinner was beans, fried potatoes & cornbread supplied by the folks in the 5th Wheel. Dave & Pam are both good cooks. Thanks!
Until Tomorrow -
---
This page is maintained by: vermilye@oswego.edu
Last Update: January 25, 2022