2021 - 2022 Trip To The Southwest
Day 101, La Posa West LTVA, Quartzsite, AZ, Day 50
2011 Trip across the US
2012 Trip across the US
2014 Trip across the US
2015 Trip to Alaska
2015-16 Southwest Trip
2016 New England Trip
2016 - 17 Southwest Trip
2017 - 18 Trip to Pick Up a New Escape 21 Trailer & More
2018 - 19 Trip to Winnipeg & the Albuquerque Balloon Fiesta
2019 - 20 Trip to the Southwest
Other Trips
Saturday, January 29, 2022, La Posa West LTVA, Quartzsite, AZ, Day 50 - 0 Miles, 3,765.5 Miles for the Trip
A little after I posted yesterday's journal a pair of RVs moved in next door, and I mean NEXT DOOR. This area is large enough that they could have found space a bit further away, but they are within the rules - more than 15'. The large Class A likes to run his diesel engine - it ran for 20 minutes after he arrived, shut off for a half hour, then started up at quarter to six. Maybe he doesn't have a generator? The guy in the Class C mentioned that this was their first time here. The Class A shut his engine down at 6:15. I'm being a grouchy old man, but the diesel exhaust is aimed directly at the front of my trailer, is loud & stinks!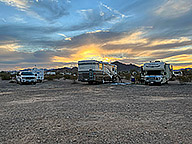 New Arrivals
Now that I'm done whining, the notes for today.
Around 42°F and light clouds for the walk for coffee. No one left the area, but we are still not too crowded other than my near neighbors. Rudy, a Canadian that has been here every year that I've been here packed up his 5th wheel and left the area across the wash to the north. It took about 10 minutes for someone to pull into his space.
So far only one new arrival that stayed here, a Class C parked near the entrance to the "island". Many more drive in & circle around, discovering that there isn't much in the way of level space left even though it looks empty. Lots more arrivals on the other side of the northern wash.
While it is fine at 70°F sitting outside when the sun is out from behind the clouds, when it is covered the wind is enough to make it uncomfortable. Eventually, I got tired of sitting inside & went for a walk. Watched a couple Class As pulling large trailers drive in & out.
Dinner was a Eating Well Chicken & Wild Rice Stroganoff.
Until Tomorrow -
---
This page is maintained by: vermilye@oswego.edu
Last Update: January 30, 2022