2021 - 2022 Trip To The Southwest
Day 102, La Posa West LTVA, Quartzsite, AZ, Day 51
2011 Trip across the US
2012 Trip across the US
2014 Trip across the US
2015 Trip to Alaska
2015-16 Southwest Trip
2016 New England Trip
2016 - 17 Southwest Trip
2017 - 18 Trip to Pick Up a New Escape 21 Trailer & More
2018 - 19 Trip to Winnipeg & the Albuquerque Balloon Fiesta
2019 - 20 Trip to the Southwest
Other Trips
Sunday, January 30, 2022, La Posa West LTVA, Quartzsite, AZ, Day 51 - 0 Miles, 3,765.5 Miles for the Trip
A quiet night, although my closest neighbor had a bit of excitement when the water pump started dumping water in one of his storage bays. Today is the last day of the Big Tent Show - it closes at 3:00. There are still streams of folks walking across the wash to get to the tent and a bunch of trucks parked on the BLM land at the corner of the wash & US 95. Most drive in the main entrance, although there is an ATV trail right next to the wash that a few full sized trucks manage to get through.
I spent most of the afternoon outside reading & getting sunburned. I did watch a small blimp go by and took a few hummingbird photos:
Around 4:30 I headed to the Chinese restaurant to pick up dinner. Not sure why, but I guess I wanted to try it one more time before I headed to Dome Rock. For what ever reason, it was the best as to freshness & taste of my 3 visits.

Normally, I'd take a walk to the dumpster with my grocery bag of trash - I usually make one per day and do the walk to help settle dinner. I'll skip the trip tonight - there is a mountian of trash bags overflowing the roll off & piles of bags along side. Hopefully, they will exchange roll offs tomorrow.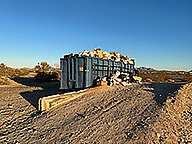 The Roll Off
Until Tomorrow -
---
This page is maintained by: vermilye@oswego.edu
Last Update: January 31, 2022