2021 - 2022 Trip To The Southwest
Day 138, City of Rocks State Park, Faywood, NM
2011 Trip across the US
2012 Trip across the US
2014 Trip across the US
2015 Trip to Alaska
2015-16 Southwest Trip
2016 New England Trip
2016 - 17 Southwest Trip
2017 - 18 Trip to Pick Up a New Escape 21 Trailer & More
2018 - 19 Trip to Winnipeg & the Albuquerque Balloon Fiesta
2019 - 20 Trip to the Southwest
Other Trips
Monday, March 7, City of Rocks State Park, Faywood, NM - 145.8 Miles, 4,911.6 Miles for the Trip
A long post today.
I had an interesting experience this morning, and I do mean morning. Friends Anne & Guido are planning to go with me to the Algonac rally at Algonac State Park, MI in early September, then the Niagara Wine Escape in Niagara Falls, Ontario the following week. They don't allow reservations until exactly 6 months before your first night. Reservations can be made starting at 6:00AM Mountain Standard Time. Since we wanted to start on Wednesday, the 7th, this morning was the day. Of course we wanted sites next to each other so I thought it would be easier for me to make both reservations (although come to thing of it, it would have been at a more reasonable time to have done it in Eastern Standard time).
Anyhow, I logged in (I already have an account with MI parks) and at 6:01 reserved the first site, and 6:03 added the second to my cart. Went through the 4 page registration process, and when I entered my credit card it rejected it. Same with my back up credit card. So, I called their 800 number, listened to a couple of minutes of information I already read on the webpage, and finally talked with a nice registration person. Unfortunately, the sites were locked because I had tried to reserve them. It took a couple of tries on my part to release them so I could reserve them over the phone. Of course, all that time I was worried that someone would grab one of the sites. To make me even more nervous, I wanted sites 130 & 128, and when they finally became available, site 132 was gone, along with many of the other sites in the upper loop.
On the third connection to a reservation person I managed to get the sites. So, it looks like we will be spending a week at the Algonac rally! I sure hope we can easily go through Canada by then. It saves 2 days of travel to cross at Niagara Falls & Sarnia rather than around the bottom of the lakes & through Detroit.
Back to this trip. I did get a chance to use one of the telescopes owned by the owner/manager of the RV park, but not looking at what I expected. He had a solar filter on a small telescope & we watched some solar flares on the sun.
I stopped at the Valley Fuel Center in Animas on the way out of the RV park to get a few gallons @ $4.49 per gallon. On the way to the park I saw a truck stop that had a sign for $3.89, and I was hoping the price would be the same on the way out. It was, so I filled up with what may have been the least expensive gas in New Mexico. Even the I10 truck stops such as Pilot & Loves were advertising $4.39 - $4.49, and the stations in Deming were posting $4.09 cash sales.
An uninteresting drive on I10 other than I crossed the Continental Divide (at 4585' so it hardly counts). I stopped at the Deming Walmart and filled the freezer as well as the refrigerator, including a couple of their wonderful Chocolate Mousses (or is it Mice; I don't thing so). I do wish they made them in Oswego).
I arrived at City of Rocks around 2:00, and set up in a new site for me, Site 4 Cygnus. Most of their sites are named after constellations. While once you get into the back portion of the site it is fairly level (I had to raise one side by 2 1/2"), it was one of the rare times I needed 4 wheel drive to get the trailer there. A drainage trough goes through the front of the site and the loose gravel on bedrock gave me no traction to get the trailer through it. A pretty site among the rocks. I prefer either site 1 or 2, but they were already booked (by 2 Escape 19's whose owners I've met before).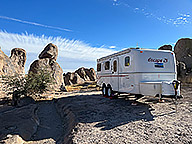 Site 4 Cygnus
After setting up and saying hello to my neighbors, I headed to the showers. I remember from the previous trip that they shut down the bathrooms at night to save water. Evidently, that is no longer a problem; they are open at night. I hit the shower at 3:30. The report - Very soft water; you will spend more time rinsing than you do washing. No bench or shelf in the drying area, but a floor mat with drainage, so it stays fairly dry. A shower curtain that reaches the floor, and a lip on the front of the shower so that helps keep it dry. 5 hooks in the drying area, 4 of which flip down if you put too much weight on them. A small shelf in the shower for soap & your shampoo. High pressure, low volume showerhead. I'll never admit that I removed it and replaced it with my carry showerhead. My rule is if I can take a shorter shower with my showerhead & I don't need a wrench to remove the original (a sign that others are also doing it; usual a host) I'll use mine. Mine is still low volume, but heavier streams so the water rinses better and stays warmer. The first push of the button gives you 40 seconds or so of nice hot water. The second one is a little cooler, and the rest barely warm. You need 4-5 pushes to rinse in the soft water. Overall, a C+ rating.
I'll save the internet speed ratings until tomorrow since this page is getting a bit long.
Dinner was a couple of Johnsonville Beddar Cheddar Smoked Sausages & some Bush Brown Sugar Hickory Beans, with half a chocolate mousse for dessert.
Until Tomorrow -
---
This page is maintained by: vermilye@oswego.edu
Last Update: March 8, 2022