2021 - 2022 Trip To The Southwest
Day 141, Oasis RV Park, Van Horn, TX
2011 Trip across the US
2012 Trip across the US
2014 Trip across the US
2015 Trip to Alaska
2015-16 Southwest Trip
2016 New England Trip
2016 - 17 Southwest Trip
2017 - 18 Trip to Pick Up a New Escape 21 Trailer & More
2018 - 19 Trip to Winnipeg & the Albuquerque Balloon Fiesta
2019 - 20 Trip to the Southwest
Other Trips
Thursday, March 10, Oasis RV Park, Van Horn, TX - 250.3 Miles, 5,161.9 Miles for the Trip
An uneventful drive south & east on I10, with a bit of stop & go on the south side of El Paso. I went through a time zone change to Central Time just before hitting Van Horn, so it is later than I feel.
I arrived at the Oasis RV Park around 3:00CST. The Oasis is an interesting place. Fairly run down, stuck between a railroad track & I10 so it won't be quiet, the laundromat is on one side of the covered pool, a single room bathroom with very dark shower, a small, but usable picnic table, and flat enough so it is not necessary to unhook. A full hookup site for $27.00 with Good Sam discount. I'm in site 18. All in all, a good one night stop that I've made many times before. I did stay at another Van Horn RV park the last time through in 2019, but it wasn't any better & cost about the same.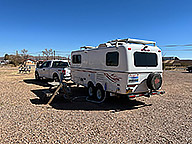 Site 18
I finished listening to James Lee Burke's The House of the Rising Sun on the way to Van Horn, and started Raymond E. Feist's Silverthorn. I had mentioned that I had a hard time getting into Burke's book, but it grows on you as you listen; Burke is a great storyteller. One of the things that makes it is the excellent narration by Will Patton. On the Kindle I'm reading Her Last Day by T. R. Ragan. I liked one of her other books, but not so sure of this one. It is the first of a series, so if I like it there are more to come.
I started using Verizon, but it was pretty slow. Switched to AT&T and Speakeasy showed 41Mbps down & 25.4Mbps up so I stayed with AT&T.
As I usually do, I headed across I10 Business to Chuy's Mexican Restaurant for a Chicken Enchilada dinner.
Until Tomorrow -
---
This page is maintained by: vermilye@oswego.edu
Last Update: March 11, 2022