2021 - 2022 Trip To The Southwest
Day 151, Toad Suck COE Campground, Conway, AR
2011 Trip across the US
2012 Trip across the US
2014 Trip across the US
2015 Trip to Alaska
2015-16 Southwest Trip
2016 New England Trip
2016 - 17 Southwest Trip
2017 - 18 Trip to Pick Up a New Escape 21 Trailer & More
2018 - 19 Trip to Winnipeg & the Albuquerque Balloon Fiesta
2019 - 20 Trip to the Southwest
Other Trips
Sunday , March 20, Toad Suck COE Campground, Conway, AR - 100.5 Miles, 6,221.4 Miles for the Trip
Not as cold as yesterday morning, although since I was moving, I didn't do my before breakfast walk. I only had 100 miles to drive today, so I hung around the trailer until almost 11:00. I took US 64 for most of the trip rather than I40, which runs parallel to it.
I set up in site D8, a water & electric site with a picnic table, fire ring & grill for $8.00 per night with the Senior 1/2 price card in what used to be the first come section; now the entire campground is reservable. A fairly level site (1/2" on one side and 1 1/2" on the tongue).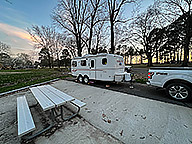 Site D8, Toad Suck COE
After setting up I headed to Best Buy for a portable USB drive. I decided to try a SSD for my Time Machine Backup & bought a 2 TB version from Western Digital. I also decided to do alternate drives for backup, so I also picked up a 2TB standard disk drive. The solid state drive isn't all that much faster - 1.5 hours to back up around a terabyte of data vs 4 hours predicted for the magnetic disk drive.
After that it was off to the Coin Laundromat. It appears there are 3 of them in Conway, and my notes from last year said it was clean with lots of machines. The lots of machines holds true for the one I stopped at, but clean didn't. Lots of trash on the floor. Since it was a Sunday, there was no attendant - that may have been the problem. In any case, my laundry is done.
On the way back to the campground I stopped at Krogers to get a Private Selection Thin Crust Grilled Mushroom & Truffle Oil Pizza. I had one the last time I was here and it was the best frozen pizza I've ever had. Unfortunately, non of the Krogers in Conway carry them. They also didn't have the Kroger brand Private Select Sumatra coffee. I didn't see any of the Kroger Private Select brand of anything in the store. I wonder if they have done away with them. I picked up the rest of the stuff on my shopping list, including a rising crust chicken pizza which was OK, but not as good as the one I was looking for.
By the time I got back to the campground it was time to put the laundry away & eat.
Dinner was a Kroger Self Rising White Chicken Pizza.
Until Tomorrow -
---
This page is maintained by: vermilye@oswego.edu
Last Update: March 21, 2022