2021 - 2022 Trip To The Southwest
Day 166, Pin Oaks Campground, Natchez Trace State Park, TN
2011 Trip across the US
2012 Trip across the US
2014 Trip across the US
2015 Trip to Alaska
2015-16 Southwest Trip
2016 New England Trip
2016 - 17 Southwest Trip
2017 - 18 Trip to Pick Up a New Escape 21 Trailer & More
2018 - 19 Trip to Winnipeg & the Albuquerque Balloon Fiesta
2019 - 20 Trip to the Southwest
Other Trips
Monday, April 4, Pin Oaks Campground, Natchez Trace State Park, TN - 182.4 Miles, 6,530.5 Miles for the Trip
A quiet & warm night - the trailer stayed around 62°F without added heat until sunrise, and then only a couple of short runs. After breakfast I packed up the trailer & headed for the dump station. They have a tower type washing hose, but is it not connected to anything. The is a standard faucet about 2" off the ground. I did managed to rinse my sewer hose after dumping, but it wasn't easy.
I started the trip on I40, including crossing the Mississippi, then hopped on US 64 at the first opportunity. Gas is a bit more in Tennessee with lots of $4.09 signs, but I found a station near Lexington, TN that had it for $3.79 so I filled up. After that I drove by one selling for $3.74, but that would have only saved me a dollar filling a half tank, and I know if I skipped the $3.79 station I wouldn't find one near that!
I'm in site 23 at the Pin Oaks campground. Tennessee gives seniors a 25% discount, but I have yet to find away to get the discount on line. I stopped at the lodge & restaurant and they gave me the discount as well as a site tag. Full hookups on gravel with a fire pit and charcoal grill. I needed to raise the passenger side 2 1/2 inches, and while the tongue would have been level, I unhooked because I'll be here for a week.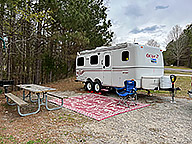 Site 23
The campground is divided into 3-4 loops, as well as 4-5 cabins. Some of the sites are on the lake. While there is a laundry in the bathroom across from my site, the washer is out of order.
While there is both AT&T & Verizon coverage here, both are fairly slow. AT&T is the fastest download at 6.9Mbps down & .1Mbps up, Verizon is faster at uploading at 2.6Mbps down & .3Mbps up. I tried Verizon on internet radio (the only FM stations I found are either religious or very local) and as usual, Verizon drops the connection constantly. AT&T has had no problem over the afternoon connecting to KBAC, a classical station in Phoenix, AZ.
I sat outside listening to an audio book - The Trade of Queens by Charles Stross. It is part of a series (book 6 of the Merchant Princes) I've been listening to over the last year or so. I'm a bit behind on it because about the only time I usually listen to audio books is while driving or on my morning walk. The walks at Village Creek have been shorter than usual, and since it is a library loan, I only have 2 weeks left to listen to it. Listening to an audio book takes me far longer than reading one.
Dinner was leftover chili that has been in the freezer since January.
Until Next Time -
---
This page is maintained by: vermilye@oswego.edu
Last Update: April 5, 2022