2021 - 2022 Trip To The Southwest
Day 167, Pin Oaks Campground, Natchez Trace State Park, TN, Day 2
2011 Trip across the US
2012 Trip across the US
2014 Trip across the US
2015 Trip to Alaska
2015-16 Southwest Trip
2016 New England Trip
2016 - 17 Southwest Trip
2017 - 18 Trip to Pick Up a New Escape 21 Trailer & More
2018 - 19 Trip to Winnipeg & the Albuquerque Balloon Fiesta
2019 - 20 Trip to the Southwest
Other Trips
Tuesday, April 5, Pin Oaks Campground, Natchez Trace State Park, TN, Day 2 - 0 Miles, 6,530.5 Miles for the Trip
Another warm night, but this time with rain. We have had light rain off & on most of the night & morning. I did get time for a close to a mile walk around some of the campground loops during a break in the rain this morning.
I tried to pay my Verizon bill. I don't know if it was Verizon's website or the slow internet here at the campground, but it didn't happen. What's more, I ended being locked out of my account. To get back in it required my email address & zip code, which it insisted didn't match. I gave up. They sure make it hard to give them money! I eventually managed to pay my bill using the #768 number on my phone. About 20 steps pushing 1, but it is done. Now I need to find a way to get my account back on line. Later - I finally gave in and called the Verizon 800 number and ended up talking with someone that understood my problem & sent me a text with a temporary password so I could log onto the account. So, with a new password, until the next time I try to pay my Verizon bill, everything is OK!
A very ugly day - still only 50°F at 3:00, and while the actual rain has stopped, it is very damp outside with heavy clouds. I spent the afternoon reading. Current book is Lions by Bonnie Nadzam. Her writing style takes a bit to get used to - it is filled with scattered threads & dialogue, but I like it so far. I thought it was about my sister's town of Lions, CO, and it might be, but quite different from the actual town that I visited.
Around 4:00 an Oliver Legacy Elite II fiberglass trailer pulled into a site across from me next to the restrooms.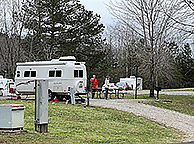 Oliver Legacy Elite II
Dinner was a Marie Callender's Creamy Mushroom Chicken Pot Pie.
Until Next Time -
---
This page is maintained by: vermilye@oswego.edu
Last Update: April 6, 2022