2021 - 2022 Trip To The Southwest
Day 172, Henry Horton State Park, Chapel Hill, TN
2011 Trip across the US
2012 Trip across the US
2014 Trip across the US
2015 Trip to Alaska
2015-16 Southwest Trip
2016 New England Trip
2016 - 17 Southwest Trip
2017 - 18 Trip to Pick Up a New Escape 21 Trailer & More
2018 - 19 Trip to Winnipeg & the Albuquerque Balloon Fiesta
2019 - 20 Trip to the Southwest
Other Trips
Sunday, April 10, Henry Horton State Park, Chapel Hill, TN - 129.5 Miles, 6,660 Miles for the Trip
A good drive on US 412 for most of the way to Henry Horton State Park. Mostly 4 lane with a few 2 lane sections. I stopped in the Columbia Krogers for some shopping, and while it looked like the best route would be to stay on US 412 to Chapel Hill, then south on Alt 31, Matilda, my GPS had me take TN 50 to Lewisburg, then north on Alt 31. I guess she wanted me to see the big city stores! The good news about the Columbia Krogers is they had a Private Selection Thin Crust Grilled Mushroom & Truffle Oil Pizza, my favorite frozen pizza, and one that I have not been able to find at the other Krogers I've visited.
Along US 412 I watched for a bunch of Oliver trailers on the east side of Hohenwald, TN where they are made. The last time I went through in 2019 I stopped and got a tour of an Elite II. This time I didn't see any trailers. I did drive 1 mile up the Natchez Trace to take a couple of photos of the Fall Hollow Falls. Very little water, but there are some spring wildflowers along the path to the viewpoint.
Fall Hollow Falls, Natchez Trace
Wildflowers
I got to the campground at 1:30, and the previous folks were still in my site. I don't quite understand their logic - they said check out time is 12:00, and check in is 4:00, which is true, but somehow they seem to believe that they can stay until 4:00. They said that people keep doing this to them. In any case, I'm in a nearby empty (so far) site waiting for them to pack up. They were out by a little after 2:00. Evidently, their attitude is not normal; they moved so far into their next door neighbor's site that they had to call the rangers to get them back on their site.
So, I'm now set up in site 31. Level side to side, but I had to drop the tongue 3 1/2" to level. I'll wait until tomorrow to drive over to the campground lodge to see if I can get my 25% discount on the site. So far I paid $167.76 for 4 nights, which includes $22.76 state & local taxes & a $5.00 reservation fee. That works out to $41.94 per night before any discount. The site is water & electric, with a short walk to the bathrooms & showers.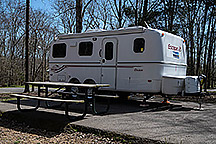 Site 31
I hope the weather holds- right now at 3:00 it is 76°F and sunny, but the predictions are for rain over the next 3 days.
It is nice to be back to internet connections at a decent speed. AT&T shows 32.5Mbps down and 15.3Mbps up.
After a 15 minute walk around part of the campground, I spent the rest of the afternoon sitting outside reading.
Dinner was a couple of Johnsonville Bedder Cheddar sausages & more of the beets. Looks like one meal left in the jar...
Until Next Time -
---
This page is maintained by: vermilye@oswego.edu
Last Update: April 11, 2022