Back to Jon Vermilye's Photo & Travel Page
A Couple of Visits to Big Bend National Park, TX
---
Some other pages at this site:
Antelope Canyon AZ
Arches National Park, UT
Bodie Ghost Town, CA
Bryce Canyon National Park, UT
Canyon de Chelly National Monument, AZ
Canyonlands National Park, UT
Capitol Reef National Park, UT
Carlsbad Caverns National Park, NM
Caverns of Sonora, TX
Devils Tower National Monument, WY
Glacier National Park, MT
Goblin Valley State Park, UT
Hanging Lake, CO
Kodachrome Basin State Park, UT
Mesa Verde National Park, CO
Mono Lake, CA
Mt Rainier National Park, WA
Rocky Mountain National Park, CO
The Grand Tetons National Park, WY
Valley of Fire State Park, NV
Yellowstone National Park, WY
Yosemite National Park, CA
Zion National Park, UT
---
During winter trips to Arizona I stopped at Big Bend National Park. On different trips I've stayed in all three campgrounds, Rio Grande Village Campground, Chisos Basin, and Cottonwood. While reservations are possible for some sites at Rio Grande Village & Chisos Basin, Cottonwood is first come. Since it is an 80 mile drive into the park, I suggest getting there early, particularly during March, when Spring Breakers fill all the sites. All camping is dry, withe the exception of a concession run parking lot at Rio Grande Village. There are vault or flush toilets but no showers, although pay showers are available at the camp store at Rio Grande Village.
Some photos: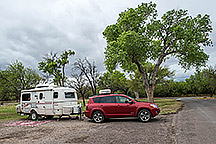 Site 64, Rio Grande Village Campground, Big Bend, TX
The Rio Grande Overlook
A Cactus
A Tunnel on the Campground Road
Unmanned Souvenir "Booth"
The Bosquillas Overlook
Bosquillas, Mexico
Sunset
A Visit to Bosquillas, Mexico:
The Crossing Rules
Looking At The Mexican Side
The Ferry
The Mules & Burros
Some Riders
An Older Building
Main Street
A Church
Souvenir Stand
Jose Falcon's Restaurant & Bar
Fixing a Broken String
Playing & Singing
Looking Across the Rio Grande
Another Restaurant
Around Rio Grande area:
Abandoned Buildings at the Hot Springs (A Store & Motel)
Canoes on the River
A Mexican Shack
A Tree
Bird Nests
Flowers
The Hot Spring
Grasses along the Rio Grande
Rock Etching
The Visiting Roadrunner
Chisos Basin:
| | | | |
| --- | --- | --- | --- |
| | | | |
| The Window | Along the Trail | Texas Mountain Laurel | Along the Trail |
| | | | |
| The Window | The Window | A Tree | Along the Trail |
| | | | |
| | | | |
Cottonwood Campground:
| | | | |
| --- | --- | --- | --- |
| | | | |
| Site 14 | Bell's Virgo? | Serious Birders | Ladder-backed Woodpecker |
| | | | |
| Vermillion Flycatcher | Vermillion Flycatcher | Javelinas | Javelinas |
| | | | |
| --- | --- | --- | --- |
| | | | |
| High Water Warning | The Terlingua "Crossing" | Santa Elena Canyon | Santa Elena Canyon |
| | | | |
| Along the Trail | The Fossil Seashells | The View From the Top | Desert Mountain |
| | | | |
| The Ranger Station | At Castelon | At Castelon | the Store At Castelon |
| | | | |
| At Castelon | At Castelon | | |
This page is maintained by: vermilye@oswego.edu
Last Update: July 3, 2017